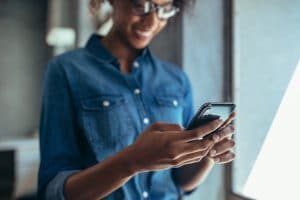 How often do you give up when visiting a website? We've grown accustomed to fast loading speeds and as such, have high expectations for our web browsing experience. Even as a dentist, your dental website's ability to load quickly easily impacts your ability to convert people searching for services online into patients in your office. You want low bounce rates, fast speeds, and seamless mobile usability, and MDPM Dental Marketing takes these factors into account when we design responsive websites for our clients. With Google Page Speed Insights and Web Page Test, our team makes sure your site loads quickly on any device, which is a vital component of UX (user experience), SEO (search engine optimization), and online marketing for dentists!
Loading Speeds and Bounce Rates
There is a recent study conducted by Backlinko to assess what helps a website rise to the top ten results on a Google search engine results page (SERP). One of the top factors? Page load speed. The websites with the lowest bounce rates loaded the fastest, and those with the highest loaded the slowest. Every second that ticks by as a user waits on your dental website to load increases the chance of them abandoning it altogether. That's exactly what bounce rate is: the percentage of visitors to a particular website who navigate away from the site after viewing only one page. According to Backlinko's study, if a site takes up to five seconds to load, the odds of people bouncing is at 90%, which means you're losing out on 90% of patients/potential patients who visit your dental website.
For this reason, speed is also a factor in SEO. Since search engines like Google, Bing, and Yahoo want to direct searchers to the best resources, they take how fast the website loads into account when ranking them. If things run slow, your website doesn't live up to Google's UX standards, and it's likely to be penalized by Google. A number of factors could impact your speed, such as HTML, large page elements, problems with image compression, plugins, and more. But, how do we assess the loading speed of your dental website?
Google PageSpeed Insights
The truth is: the team of designers, developers, strategists, and dental copywriters know dental websites and SEO, so we take things like page speed, backend build, UX, and more into account from the very first moment we start your project. We create online web presences for dentists that fit the bill and perform well, both for Google and for converting users into patients.
To assess the speed of your website, we use Google's PageSpeed Insights tool. This tool gives a percentage on loading times, and offer tips on increasing speed. We not only test your desktop website, but also the versions we've created for mobile devices, such as smartphones and tablets. A number of factors could impact the rate at which a dental website loads, but the more elements a site has, such as images, videos, plugins, and content, the slower it could load on various devices. Fortunately, MDPM Dental Marketing has strategies in place to help increase these rates without sacrificing the desired elements for your site, including performing audits of old dental websites and performing quality checks on new sites to ensure all standards are met.
Improving Your Rate
Did you know that the images on a website make up 62% of a page's weight (on average)? In fact, a study by Radare in 2013 shows that the average weight of a webpage has increased over 151% in a period of just three years! As web pages get heavier (sleeker, more video-oriented, etc.), they load slower. However, by compressing these images, we have the ability to take off some of that weight without sacrificing the quality of the image itself. Our team knows how to do this so that images best perform on a website and for users, no matter what type of device they are using. We also prioritize elements on your website. This means that the critical and essential parts of your webpage, like Google- and Schema-readable content, load first. For the images, there may be an unclear and blurry picture for a few seconds, then the high-quality image loads. This ensures the page shows up quickly, the viewer sees the critical information, and that trying to prepare the images doesn't cause the viewer to "bounce" away from your website and onto a competitor's.
We use three different processes to cache and "lose weight" on your dental website: browser, static, and leverage. With browser caching, your website will provide users with a static HTML file, instead of loading the PHP scripts each and every time. These static cached files can be displayed to users thousands of times. The website loads much faster on multiple devices, and as most people don't need to be logged into a site or comment on your blog, these cached pages help reduce the weight of your webpage and makes browsing much simpler and faster.
Minify HTML, CSS, and Java:
When we minify your HTML code, the weight of your website decreases and, therefore, allows our tech team to also decrease loading times. We also partially minify CSS and JavaScript to strike a good performance and design balance so that neither qualifier is compromised.
Accelerated Mobile Pages (AMP) is an open-source project from Google designed to help create mobile websites that load quickly. The goal is of this is to prevent users from abandoning pages that don't load within three to five seconds. We create our mobile websites in this format to ensure fast speeds and lower bounce rates! Also, all of our clients follow the mobile-first process, which means we design and build websites for mobile then tablet then desktop devices. This means that your website is all one and the use of logos, favicons, and other branding elements is consistent.
As you can see, a fast-loading page is crucial for SEO and reputation management and a critical part of marketing for dentists. If you have any questions about optimizing your webpages, contact MDPM Dental Marketing today!
MDPM Dental Marketing Offers Efficient and Modern Website Design
At MDPM Dental Marketing, our marketing for dentists is thorough and executed through easy-to-load and navigate website design and build. If you have questions about our services, or about boosting your SEO and online presence, please call MDPM Dental Marketing today at 972-781-8861. Together, we can help your practice put its best face forward online!