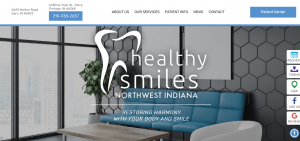 When we help a client with an organic SEO strategy and online marketing plan for their dental practice, the goal is to create long-term growth and achieve better positioning on a search engine results page (SERP). As a dental practice grows and thrives, the time may come when opening the doors of a second location for your dental practice is the right business move. While opening a second location is definitely a cause for celebration, you also need to think about your current marketing plan. What should change when you have multiple dental offices to see patients? How do you alter your dental SEO tactics to help both practices grow and attract new patients?
What Happens Before Opening a New Location
First, both offices will need to maintain current patients and attract new ones, which means operating an organic SEO strategy is more important than ever. After all, you're marketing for two now! When this happens, we often talk to our clients about celebrating the news. Let people know another location is coming (ideally, at least 90 days prior to opening the doors of the new location)!
For some current patients, the new office may shorten their commute or offer greater convenience. They may have family living nearby that will be more likely to visit this new practice. Getting the word out to everyone in your circle (patients, colleagues, friends, family, neighbors, the community, etc.) is essential. We can help you come up with messaging and a plan of attach to reach your circle and make a splash in your community. In addition, you want a solid dental marketing plan to ensure that – when users search for a dentist in your area – your new office comes up in search results just as your first practice does. Of course, showing up in search results takes time, but everything from local business schema for your website to social media to reputation reviews impact what happens when people search for a dentist online.
Updates to Your Website
If your new office has the same name, same services, etc., then little will be needed to change. The push will mainly be to let people know you have a second office. We can list both on your homepage, and adjust your call-to-actions at the bottom of each page and on your contact page to reflect this. We'll also turn to social media, Google My Business/Maps, etc. to help us get the word out.
Now, what if this new office is different from your first office? What if you have a general practice, but your new location is going to focus on implant dentistry, endodontics, sleep dentistry, aesthetics, or other specialty services? In this case, you may benefit from having a separate website to focus on the different aspects of this new office, that way when people look for a specific service in your area they're directed to your new site and office.
Either way, this time is a great time to make sure the website for your original office is up-to-date. Look at your services, your team, and other website content to ensure it's where it needs to be.
Regardless of which route your dental marketing strategy needs to take, your Google My Business listings will need to expand. Even if you're offering the same basic services at both addresses, you want a separate Google My Business listing for each office. We handle all of the heavy lifting here. In addition to updating contact information and local business schema for your current dental practice, we will also claim any existing Google My Business listings to maintain positive reviews, and also create and/or claim a Google My Business, Bing Places, Yelp, Yahoo, and Apple Maps page for your newest address.
New Branding Approaches
We briefly touched on what to do if your new office is providing different services for the community. If the services are the same, then your current branding and logo will not require any major changes or updates at all. In fact, we want to keep them the same to ensure a link is made between the two, so patients and potential patients understand you're the same practice offering the same high-quality dental care in your community.
But, should your new address offer different services, or operate under a different name and logo, then a new branding approach is necessary. Some dentists will purchase existing practices and prefer to leave them more or less as-is to preserve their reputation and patient base. Or they may simply want to make a clear division between the two offices. In these situations, separate branding, with new logos, a new website and their own Facebook, Twitter, Yelp, and Instagram pages, will be necessary. Again, we're here to help.
Social Media
As always, social media is a key component of your dental SEO. When opening a new office, your social media is a great way to let people in your community know about the new location. You can maintain your current pages and profiles if the new office is offering the same services with the same logo and branding, we will simply update it. But again, should you need new logos and branding, then we will create unique accounts and help you manage them!
Organic SEO in Overdrive
Even if your new address will use the same logo and branding, and you don't need a new website or social media page, your practice will still need to pull double duty with your dental SEO. An aggressive organic SEO strategy is crucial to ensure growth of multiple locations, whether you have two offices or more. Our team will help you with this process, from updating your current site and social media pages, to creating new Google My Business listings and promotions or specials to help spread the world. If you have any questions about this process, or if you're unsure about how your practice needs to grow and expand, give us a call! Our dental marketing experts are here to help, and want to work closely with you to help your dental practice thrive.
MDPM Dental Marketing Offers Dental SEO and Marketing Services!
At MDPM Dental Marketing, our team works with dental practices both big and small, helping them with their unique needs and crafting a custom organic SEO strategy to help them attract new business and hopefully, expand into new areas! If you have questions about managing your growth and creating new custom websites or operating a special media strategy, give us a call today. To find out what you need to know about expanding your business and improving your online presence, please call MDPM Dental Marketing today at 972-781-8861.