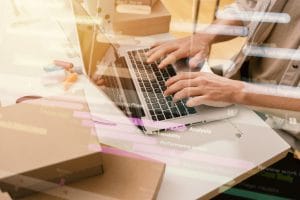 While templated websites are cheap, they don't offer a dental practice the wide array of benefits that a custom one does. In today's blog, MDPM Dental Marketing is walking you through the process of planning, designing, and completing a custom dental website. We're going to look at the additional options we can build in, including payment portals. With a new website, you put your best face forward online, and you also have a chance to improve your SEO at the same time. Find out why you should consider a custom dental website!
Set Up and Prep
First, we're going to sit down for an initial interview with our clients to find out exactly what kind of site they want and gain a detailed picture of the exact services they offer, as well as what sets them apart from other practices in the community. After all, a pediatric dentist and an oral surgeon will need a site that looks and functions very differently. Then, we're going to begin gathering files, images, and other information that will be used in the design.
Our team then starts preparing the build with an initial set-up, activating necessary plugins, and creating and/or importing advanced custom fields used in the website. These will hold practice information, social media icons, and logos. We then incorporate the practice name and site title, the fonts and font weights, and set up the global style that will be the layout of each individual webpage and ensure a unique and uniform, aesthetic that reflects your dental philosophy and treatment options.
The Build Process
Now we begin the build! Our team takes a mobile-first, top-to-bottom approach to the process. We create the entire page on 400px starting from the top and working to the bottom. This will be the version you see on the smallest sized screens. Next, our team sizes up and adjusts the layout to ensure it looks great on the new screen size. We continue this process all the way to 1030px, then adjust to ensure it fits 1920px, the size of a desktop screen. The goal with a mobile-first approach is to ensure the pages look amazing on screens of all sizes, from smartphones and tablets to laptops and desktops. Google also practices mobile-first indexing, which rewards websites using a mobile-first approach with better spots on a search engine results page (SERP), so your custom dental website not only looks amazing, but it helps with SEO as well. We make sure every internal page receives the same care and attention as your homepage. If you've elected to have regular blogging done for your practice, then we will also set up a place for your dental blog, too!
What About the Copy?
Now that your webpages are built and the design is complete, we need to incorporate the copy. Our copywriters will write blurbs and copy for the home page and all internal pages, ensuring it reflects your approach to dentistry and includes accurate details about your practice. You may want to consider including information and call-outs regarding any new technologies you've implemented to help protect your patients from the spread of COVID-19, as many practices have begun using air purifiers, PPE, and other health and safety measures. We upload the copy, set up your navigation, and create links to related pages within the homepage and each webpage. We next complete the call-outs and add map platforms and links to social media pages, as well as special pages you may want incorporated, such as review and appointment pages, contact us forms, and new patient forms.  Extras also include options such as payment portals, which we can also add later in the process as we go through quality checks with you.
Quality Checks and the Big Debut
Now in the process, we complete our quality check, which means we perform a thorough sweep of your entire site, each and every page, for any issues, missing links, or problems with the copy. This sweep is actually one of several we perform at each stage of the build to ensure any mistakes are caught before your custom dental website goes live. The next step is to deliver it! You now have a chance to look over everything yourself, and we will fix any issues you find, or correct anything you want changed. At this point, you may want to add extras, such as payment portals or new patient forms. A final external quality check is performed, and your new homepage is now live for the world to see! Now, it's time for our favorite part of the entire process: the celebration! We always look forward to seeing clients happy with the final product we've delivered. The goal is to ensure your website fits within an online marketing plan designed to improve SEO, help attract new patients within your community, and help your practice grow. If you have any questions about the process of designing and crafting a custom product for a dental practice, or about our SEO and social media marketing plans, then please contact our team today. With doors finally opening for dental practices across the country, we want to make sure you're ready both in-person and online to welcome patients old and new back into the office.
MDPM Dental Marketing Provides Custom Dental Websites
We want to offer your practice a chance to improve SEO and make a great first impression with potential patients, helping your office grow. At MDPM Dental Marketing, we know that a custom build allows us to integrate convenient options for your patients and improve SEO. To start the process of designing and crafting your new custom website, please call MDPM Dental Marketing today at 972-781-8861. Now that cities across the country are starting to open up again, now is a great chance to make big changes to your online marketing strategy! MDPM Dental Marketing is here to help, and we're happy to answer any questions or address any concerns you may have, so please give us a call.