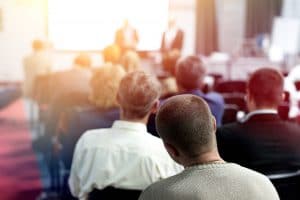 On Thursday, October 10 and Friday, October 11, the Kay Bailey Hutchinson Convention Center in Dallas will host this year's Southwest Dental Conference. For these two days, the region's experts in the dental field will provide exciting educational opportunities, and vendors can provide you with information on new dental technology, and resources to support your practice. You can also take advantage of your free time to explore Dallas, and enjoy its many cultural and entertainment offerings. Our office is particularly excited for this year's conference, as it is taking place in our backyard! We are encouraging our clients to reach out to us if they plan to be in the area and would like to arrange in-person meetings. In between your workshops and courses, networking opportunities, and conversations with vendors, you can come away from the conference excited to make changes to your practice in 2020. During a special in-person meeting, we can help you understand how smart SEO strategies, and the right website content, can make these goals more attainable!
Highlights Of This Year's Southwest Dental Conference
The ninety-second annual Southwest Dental Conference is offering a wealth of informative and educational experiences that can help your dental practice. The conference will arrange courses that offer CE credit hours for attendees. These courses will be led by practitioners who have been selected by the Southwest Dental Conference and the Dallas County Dental Society. In addition to the continuing education opportunities, you can take part in special social programs, and informative group training events.
During the two days of the conference, you can also explore the exhibitor hall, and meet with vendors offering modern dental technology. You can look into upgrading current dental tools, or find out about new products that you can use at your practice. You can also meet with experts who can help you support the business side of your practice when you visit the hall.
What Can Your Practice Gain From Attending The Conference?
The Southwest Dental Conference expects to see close to ten thousand dental professionals on hand for this year's event! Your time at the conference can allow you to meet with many experts in your field to discuss developments in oral health care, and to discuss the professional challenges that a practice can face. Your time in the exhibitor hall also lets you speak at length to vendors involved in dental technology and office matters. These opportunities, along with the chance to earn additional CE credits, can help you face 2020 and beyond with new insights, and new strategies for supporting your office.
This Year's Conference Is In Our Hometown!
This year's Southwest Dental Conference is particularly exciting for our office, as it just happens to be in our hometown of Dallas! We may be biased, but it is hard for us to think of a better gathering place. During your time here, you can gaze at the city's impressive skyline, visit museums and landmarks, and enjoy great dining opportunities. For those who are bringing family members, there are many fun activities to check out, as well as impressive shopping centers, and entertainment districts to explore. The conference may keep you busy, but we hope you can give yourself at least a little time to go out and explore!
We're Ready To Meet With Out Clients Attending The Conference
Because this year's conference is conveniently close to our office, we want to let our clients know that we are happy to meet in person, and talk about your online marketing efforts. Because we help so many dental offices throughout the country, we have limited opportunities to meet with many of our clients directly. While meetings over the phone and through online communication help us stay in close contact, we know how valuable person-to-person interactions can be. Because we are reaching the end of the year, many people are looking ahead to what the next year will bring. We are here for you if you want to have a deeper conversation about potential website upgrades, a change in your online marketing strategy, or ways to improve your social media presence.
Start Thinking About Your Approach To Online Marketing For 2020
While you may or may not have plans to attend this year's conference, you should start thinking about your professional goals in 2020. Just as the field of dentistry goes through changes over time, you can also anticipate changes in the world of SEO. With our support, you can continue to see value from digital marketing and website management. If your goal is to introduce a new focus at your practice, or if you are trying to create more awareness of certain services you already provide, we can talk to you about setting up a microsite! A microsite is an additional website that allows you to discuss a narrower range of oral health matters. With this new resource, you can create more links, put greater emphasis on keywords and links, and make sure your practice is showing up when people in your area are searching for specific dental maters. This is one of many ways we can help you change the way you promote your practice, and create new business opportunities. With the right SEO focus, we can help you see a brighter, busier future for your practice in 2020 and beyond!
MDPM Consulting Is Ready To Help You See Better Results From Online Marketing
MDPM Consulting provides SEO expertise for dental practices located throughout the country. We can help you manage your current website, or upgrade your digital presence. We can also offer ongoing support by producing original site content, managing your social media profiles, and helping you generate more positive reviews from patients. You can safely assume that your potential patients are turning to Google and other search engines to look for oral health experts, and to address their dental questions. With our support, you can have an easier time connecting with these people, and creating favorable first impressions that lead to appointments. For more information about our SEO services, please call MDPM Consulting in Dallas, TX today at 972-781-8861.