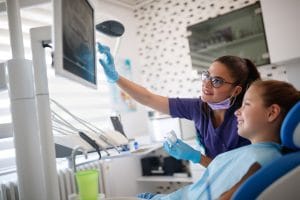 Starting a dental practice from scratch means choosing your own branding and logo, and creating a marketing plan to attract new patients and help your office thrive. But what if you're a dentist buying an existing dental practice? This transitional phase offers a number of different challenges. How do you preserve the current patient base and still grow? What aspects of the logo and branding need to change? How do make it your own without losing what helped make the office such a success in the first place? In today's blog, MDPM Dental Marketing talks about how we update logo and branding, and use social media to help a dental practice in transition, just as we did for Dr. Abudayyeh of Calcagno Cosmetic and Family Dentistry!
What Will You Be Changing?
We've been offering organic SEO and dental marketing services for Calcagno Cosmetic and Family Dentistry for several years. When Dr. Abudayyeh purchased the practice, she wanted to keep the same brand in order to facilitate a smooth and gradual transition. We've helped manage this with a new dental website and changes to their social media. Doing so means that we kept the brand the same for now, but this will make the move to a new brand and logo in the future a more seamless process. This is one example of the type of practice transition and rebrand we assist with.
We also help those purchasing a practice, but doing a complete overhaul of branding, logo, dental website, and social networking. Others want to make no adjustments to the company, other than letting people know that there is a change in ownership. Still others want to take a practice that has little to no web presence, and bring it into the 21st century. Whether you're changing owners, updating your marketing strategy, or completely altering every aspect of your new office, our team is ready to help!
Rebranding The Office
To start, we're going to talk with you at length about what you want for your new office. What changes do you want to make? What aspects do you want to preserve? We're going to help you find the best way to communicate these changes to your current patients, while also preparing your online marketing plan for big shifts. After all, we will need to create a whole new organic SEO strategy to help your office continue to grow and thrive through the transition process and beyond.
Next, we're going to claim your Google My Business pages and your social networking pages. These will need to be updated with your new information. We will also start the process of designing and building your new website. Your new dental website will have a responsive design that organizes information and makes browsing on multiple devices and screen sizes a breeze. Our organic SEO strategy is content-based and helps Google recognize your new practice as an authority on dentistry and the specialized services you offer within your community. Local business schema will involve building in important information in the backend of your website, so Google, Yahoo, and Bing can pull this information to create a result on a search engine results page (SERP), which includes all the details needed to help someone find your homepage, understand your services, and hopefully, make an appointment!
Even if you want little to change initially, such as the case for Dr. Abudayyeh and Calcagno Cosmetic and Family Dentistry, we will start work on your new logo and branding. We want your logo to be clean, esthetically-pleasing, and representative of your brand. Your brand will allow us to focus our SEO and social media strategies on the services you provide and the patient base you hope to attract. Branding for a pediatric dentist and a general dentist will differ significantly, so custom branding is an absolute must for a practice, whether that office is brand-new or obtaining to new ownership.
A United Front Across Social Media
Social media for dentists is a crucial part of your new marketing plan. First, we will help you communicate the changes in your office to current patients, so they know that while management and leadership is changing, the practice will continue to offer the same level of care. We also have a way to let people know about the positive changes coming to the office, such as updated ownership and services, or special offers. MDPM Dental Marketing also creates new content of these pages to help engage people on multiple platforms, including Facebook, Twitter, Instagram, and more. New content looks good to Google, and offers a chance for you to interact with people (and potential future patients) online!
Reputation Management
In addition to social media for our dentists and website updates, we also assist with reputation management. What people say about you online is a major factor for most people deciding on who to call and set up an appointment with. Which means we need to make sure you have reviews on a variety of platforms, including Google My Business, Yelp, and Facebook. We will help you earn organic reviews from actual patients, the kind that Google notices and rewards. As you move into new ownership and help make a practice your own, you need up-to-date reviews about the changes you've implemented and what people can expect when they schedule a visit!
Buying an Existing Practice? MDPM Dental Marketing Will Help!
There are a number of unique challenges facing dentists looking to buy an existing dental practice or make changes to an existing brand. At MDPM Dental Marketing, we know how to help our clients make these changes, from updating the website to starting a new SEO campaign to spread the word. To find out how an help you through this transitional phase, please call MDPM Dental Marketing today at 972-781-8861. Whether the changes you're bringing to this new practice are minor or extensive, our team is ready to help facilitate these updates and manage your new marketing plan!