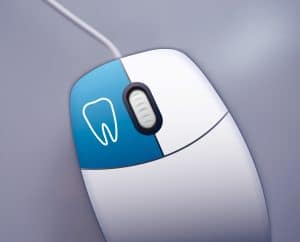 When MDPM Dental Marketing works with a dentist, we create a marketing plan based on the service they provide and the patients they treat. Although many of our clients are general dentists, offering many of the same treatments and procedures for residents of their community, we also work with specialists. We know how to create a marketing plan to highlight the strength of a specialist, whether they focus on periodontal care, prosthodontics, cosmetic dentistry, sleep dentistry and sleep apnea treatment, orthodontics, and more. But, how do we create a custom website and local search engine optimization plan for specialists? Will this impact branding and logo?
Learning About Your Services
Everything starts with your initial interview. Our team will talk with you about your services and your practice. We need to know what you're offering your patients, and who makes up your patient base. Everything from your local SEO strategy to the look and feel of your website will depend on your services and your patient base. For example, here is the website we created for Dr. Karina Marr of Pediatric Dental Care at Casa Linda. Her website consists of bright colors, a friendly and clean esthetic, and pages of original, optimized dental content focused on the general and preventive pediatric dental services.
Now, take a look at the website we made for Dr. Quinton Slaughter of the Texas Institute of Oral, Facial, and Implant Surgery. This website is completely different than Dr. Marr's, with a different esthetic that more fits his specialty and demographic (polished, clean, sterile-looking), but – again – focusing on the treatments they specialize in. Creating content and marketing strategies for specialists means understanding and focusing on that specialty, which is something our team of dental SEO strategists, designers, developers, and copywriters at MDPM Dental Marketing knows how to do! These details are also essential for branding, allowing us to create a custom logo and more to make you easily recognized and reflect your unique approach to dentistry.
Creating Your Organic SEO and Custom Content
Organic SEO (search engine optimization) means creating customized content and a dental website that follows Googles' specific guidelines for best practices. The ultimate goal is to direct users to your dental website when they search for a dentist in your area. You want to be on the first page of a search engine results page (SERP), preferably toward the top. You also want people to easily find the information they need to understand what services you provide, who you can help, and how to contact you for more information, or better yet, to schedule their first appointment.
First, the homepage will contain information to highlight your approach to dentistry and specific services. For example, Dr. Slaughter's website calls out implant dentistry, wisdom tooth extraction, and jaw surgery. There will also be internal pages created specifically for the unique services you offer, which follow the industry's and Google's on page and back end SEO and UX (user experience) best practices. Along with optimized content on your webpages, we will also create and maintain your dental blog. A steady flow of new content with a blog creates pages for Google to crawl and index, which helps search engines recognize your website as an authority for specific keywords and topics. All blogs will cover content specific to your services and specialties, and we do the same for social media content, newsletters, and more.
Designing and Building Your Custom Dental Website
Since Google promotes mobile-first indexing, and the majority of local searches for services or information online is done on a smartphone, we always start with mobile first when creating your website. We make sure users can easily navigate it and find key information on a variety of services, from a smartphone to a desktop and everything in between. We also ensure optimal user experience (UX), so potential patients will have no problem using your site on the device of their choosing. We follow web content accessibility guidelines and also integrate social media, maps, an active blog, and Google Analytics and Search Console/Webmaster Tools. Each part of your dental site, from the design to the content within, is also optimized for local SEO as well!
Social Media and Reputation Management
We also use social media as part of our marketing strategy for dentists with specialties. Again, we have an opportunity to focus on your specific services on your Facebook, Instagram, Twitter, and Yelp pages. We also provide a stream of custom content for your pages through our social media kit and your blog posts. Social media also assists with reputation management, as these pages offer a way for you to interact with patients and potential patients, and also provide a platform to receive reviews from people you have treated. Social media is essential these days for lending authority to a company, and we want to make the most of these opportunities for those with specialties. You already stand out in your community for the services you offer, and we want to make sure you also stand-out online, and that users looking for the services you offer can find you easily. If you have any questions about our servcies, then contact our team to schedule an interview!
MDPM Dental Marketing Provides Custom Web and SEO for Specialists
If you focus on a specific area of dentistry, you need an online presence and special media strategy that reflects this. With local SEO, reputation management, a custom website and branding, we will highlight what you focus on, such as implant dentistry, pediatric dentistry, or other specialty services. At MDPM Dental Marketing, our team will work with you throughout the process, from the initial interview to creating your logo, designing and building your website and online reputation, creating new content for your blog and social media, and more. To find out how we create an online marketing strategy that reflects what you offer and helps direct new patients to your office, call MDPM Dental Marketing today at 972-781-8861. Let's build an online presence for your dental practice that attracts the patients you want.