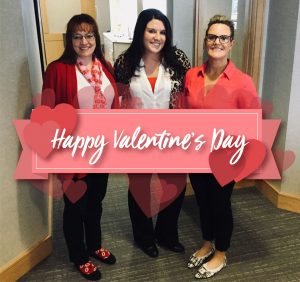 It's Friday, and ardent followers of this blog know what that means: It's time for another shout out! We have the great pleasure of working on behalf of amazing dentists from across the country. Each Friday, we like to show our clients a little love on the blog with a client feature. Of course, this week, "love" is an apt word, because yesterday was Valentine's Day! This week, we're giving a shout out to some of our clients who hosted fun Valentine's Day events and celebrations around the office.
Sharing Office Events on Social Media Creates Relatable Content
Before we get to the shoutouts, here's a quick note on why these practices are important. When you host fun events or celebrate holidays in your office, it makes for great social media content. Timely content is relatable and personable for viewers. Taking these moments to humanize your practice and introduce your staff to your social media audience can pay dividends in the long run.
A Valentine's Day Video from Dr. Okoniewski and a Graphic from Calcagno
Dr. Okoniewski shared a simple Valentine's Day video to his practice's Facebook page. While this video is short and simple, it's also fun and memorable. You should strive for these traits when you create social content for your practice.
The Calcagno Cosmetic and Family Dentistry practice posted a simple photo with a graphic. Again, taking the opportunity to feature your staff members on social is valuable.
Office Celebrations from Cleveland and Contemporary
We also had clients share photos from their celebrations at the office. Getting into the spirit (for any event) has a positive effect on morale around the office. Sharing the experience with your social media followers can have the same effect.
The team at Cleveland Family Dentistry got dressed up for the occasion, while the staff at Contemporary celebrated with cookies!
CIDKC Promoted a Special, While Lake Country Orthodontics and Sunny Smiles Shared Fun Videos and Pictures
You can also use your social channels to inform your clientele about specials that you're offering at the office. CIDKC did this with a February whitening special. Playing on a timely theme can grab the attention of your audience.
Meanwhile, the teams at Lake Country Orthodontics and Sunny Smiles Dentistry celebrated with fun videos and pictures. When you feature your staff members having fun, it makes your practice look like a fun place to be!
MDPM Consulting Can Help with Your Social Media Management
We offer website building, design, SEO, and social media services to members of the dental industry. If you'd like help managing your practice's social accounts, we can do that! Give the team at MDPM Consulting in Dallas, TX a call at 972-781-8861 to learn more.