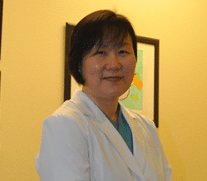 Once again we've arrived at Friday, a favorite around the MDPM Consulting office. Friday ranks pretty highly on most people's lists of the best days, and why shouldn't it? It's the end of the work week and the start of the weekend, but for us, Friday is even more than that. Friday is the day that we give one of our fantastic clients a shout out on the blog! We're so privileged to work with outstanding dentists from around the country. Today, we want to give a special shout out to Rodem Tree Dental in Rowlett, Texas! We recently had the chance to build this client a new website!
The Home Page for Rodem Tree Includes an Overview
When redesigning the Rodem Tree website, we wanted to make sure that the practice's home page created a clear impression. That's why we included a brief introduction to Dr. Ellen Nam and some of the areas of focus for the practice. Rodem Tree provides family dental services, implants, and emergency care, so we were sure to include those things in the home page introduction. The team at Rodem Tree Dental work hard to provide a welcoming care environment for patients, so it's important to express that idea on the site.
The Rodem Tree Dental Website Includes an Office Tour
To continue with the theme of patient comfort, the Rodem Tree website also includes an office tour tab. This is a highly effective tactic for attracting new patients to your dental practice. An office tour section — with photos of the waiting area, dental care stations, and any other facilities — gives first-time patients a chance to preview the dentist's office before they visit. This typically increases patient comfort when they do make their office appointment. Everyone likes to know what they're getting into beforehand.
Patient Forms and Financing Tabs Help Website Users
A website should be designed to add value to the user of the website. Your dental practice website can provide value to the user by making them feel more comfortable before a visit. It can also provide value by cutting down on in-office paperwork. The Rodem Tree Dental website includes a patient forms tab, which allows patients to complete pre-visit paperwork to make visits more simple. The website also has a financing tab, so that patients can learn about their different options before making an appointment.
Build Your Dental Practice's Website with MDPM Consulting
If your website could use an update or an upgrade to become more user-friendly, we want to help! MDPM Consulting specializes in dental practices, and we're always ready to help you attract new clients. Learn about all of our services by contacting MDPM Consulting in Dallas, TX at 972-781-8861.