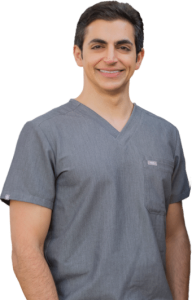 Another Friday is here, and thank goodness, because we're ready for another client feature. We're thrilled that we have the opportunity to help so many incredible dentists grow their practices. That's why each week, we give a nod to one of the amazing clients with whom we have the privilege to work. This week's client feature highlights a client who just went live with a new website. It's time to meet one of the awesome practitioners behind the high-tech Newhall Dental Arts: Say hello to Dr. Kasra Tajik!
We're Excited to Work with Dr. Tajik on This Most Recent Project
We've had the pleasure of working with Dr. Tajik on a number of projects before, so we were excited to bring this latest website to life. Working with charismatic and talented clients is fun because we get to send more patients their way! At MDPM Consulting, we always strive to make sure that your practice's skills and expertise are highlighted through your digital presence. For Dr. Tajik and Newhall Dental Arts, that means calling attention to the customized cosmetic care and state-of-the-art technology used by the practice.
A Strong Website Should Be Functional and Aesthetically Pleasing
When it comes to website design, form and function are the same thing. Your website design should visually guide the user to the helpful information they're after. That's the approach we've taken with the Newhall Dental Arts site. On the home page, you can find highlights for which the practice is known. Dropdown menus at the top of the page give you more thorough options if you're after something specific. When your website is aesthetically pleasing, it helps users find what they want faster, which in turn improves your SEO.
Adding Extra Layers of Function to Your Website Is Helpful
When evaluating your own website, think about what your users need from it. Adding extra layers of function can improve the user experience and potentially save your staff time. For Dr. Tajik's website, we added downloadable patient forms so that new patients can complete their paperwork before arriving at the office. We also added a section where patients can learn more about the staff at Newhall Dental Arts. This makes patients feel more welcome and comfortable before they arrive.
Let MDPM Build Your Website for Function and Esthetic
We've helped many clients like Dr. Tajik update and upgrade their websites. We can also build sites from scratch. The way you present yourself online has a huge impact on your ability to drive new business to your dental practice. MDPM Consulting can build your website for function and esthetic. Talk to our team and see how we can help by contacting MDPM Consulting in Dallas, TX at 972-781-8861.