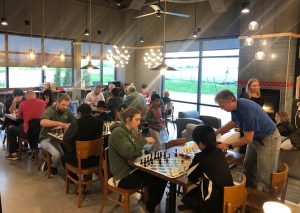 Well looky there, It's Friday once again. We're big fans of Friday, because this is the day each week that we like to give a shoutout to one of our outstanding clients. While we work primarily with dental offices around the country, we also have clients in other fields. This week's feature gives the spotlight to Dunn Brothers Coffee in Coralville, IA! Dunn Brothers is a coffee franchise owned by local members of the community. This awesome business embraces their place in the Coralville community, constantly creating opportunities for engagement.
Dunn Brothers Coffee Is on a Social and Blogging Plan with MDPM
Dunn Brothers Coffee has a special, custom package for its marketing services. This package includes blogging, Instagram, Facebook, and Twitter management. The Coralville location is a socially engaged business that leverages these tools to raise awareness of their brand, and to support community events. MDPM Consulting offers weekly blogging and daily social media posts that highlight not only products at Dunn Brothers, but also happenings around the Coralville area. This is a great strategy for this particular brand, because Dunn Brothers is a coffee shop, as well as an event space.
Dunn Brothers Embraces and Promotes Its Community
One of the best things you can do as a business is to engage and support your local community. This is especially true if you're a coffee shop. The people who support your business are members of the nearby community, so supporting them is an investment in your own business. By creating social engagement (on social media and in person), you increase the awareness and esteem of your business. Dunn Brothers Coffee supports organizations like Pinwheels for Prevention and events like local chess tournaments to contribute to the Coralville community.
Share Your Business's Activity on Social Media
Many businesses are active members of the community, and that's great! But signal boosting that activity is important. Sometimes business owners don't like the "look at me" stigma that comes with social media, but talking about what your business is doing for the community isn't bragging, it's increasing awareness. If you're having a fundraiser for a cause, you want to get that message out to as many people as possible so that you raise awareness about the issue. If fewer people know, fewer people receive help.
MDPM Consulting Can Help with Social Media Management
Social media management can feel like an overwhelming project when you're trying to manage your business. MDPM Consulting wants to be your partner. We can set up a custom marketing plan that includes social media management to help increase awareness about your business. Learn about all of our marketing services by contacting MDPM Consulting in Dallas, TX at 972-781-8861.