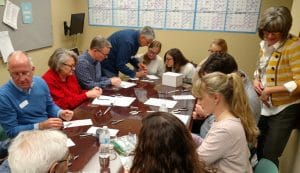 We've arrived at Friday once again, which means it's time for us to deliver another awesome client feature! We greatly appreciate the fact that we get to work with so many talented dentists from across the country, and each Friday we like to give one of our clients a shout out on the blog! Today's client feature highlights a Michigan dentist who's committed to continuing education. In fact, he recently completed another training course with the West Michigan Orthotropic Study Center, advancing his skills with Biobloc appliances. Well done, Dr. James Stewart Jr.!
Dr. James Stewart Jr. Specializes In Orthotropic Treatment
Curiosity and an appreciation for education have fueled Dr. James Stewart Jr. throughout his dentistry career. A commitment to learning has lead to him take many continuing education courses in a variety of disciplines. Most recently, Dr. Stewart completed a course with the West Michigan Orthotropic Center, where he has worked for the past two years. This organization helps dentists hone their skills in analyzing and treating orthotropic conditions in patients. By expanding and enhancing his skillset, Dr. Stewart is able to better serve his community of patients.
Celebrating Industry Achievements on Your Website Enhances Your Credibility
If you're a dentist who takes professional development and achievement seriously, you work hard in these areas. So, when you receive a certification or membership, you should celebrate that fact on your website! Including industry certifications and memberships can improve your online reputation and credibility. This helps your practice website stand out, and it can lead to more business from new clients. Dr. James Stewart Jr. has a bio page which lists his credentials, certifications, and memberships, so that patients who explore the website understand that they'll receive quality care at his practice.
Patient Care and Education Are Core Elements of Dr. Stewart's Practice
In addition to improving your online reputation, your website also functions as an introduction to your practice for new patients. It presents you with an opportunity to help patients get to know you before their visit. Patient care and education are important to Dr. Stewart and his staff, so they've highlighted these elements on the website. Before patients even arrive to his practice, Dr. Stewart has already assured them that they'll receive quality care from a talented team that gets to know its patients personally.
Let MDPM Consulting Share Your Practice's Story
Does your website represent who you are as a dental practice? If not, MDPM Consulting can help. We specialize in dental practice marketing, and offer services in website building and redesign. You deserve a website that makes a great first impression. Learn about how we can help, by contacting MDPM Consulting in Dallas, TX at 972-781-8861.