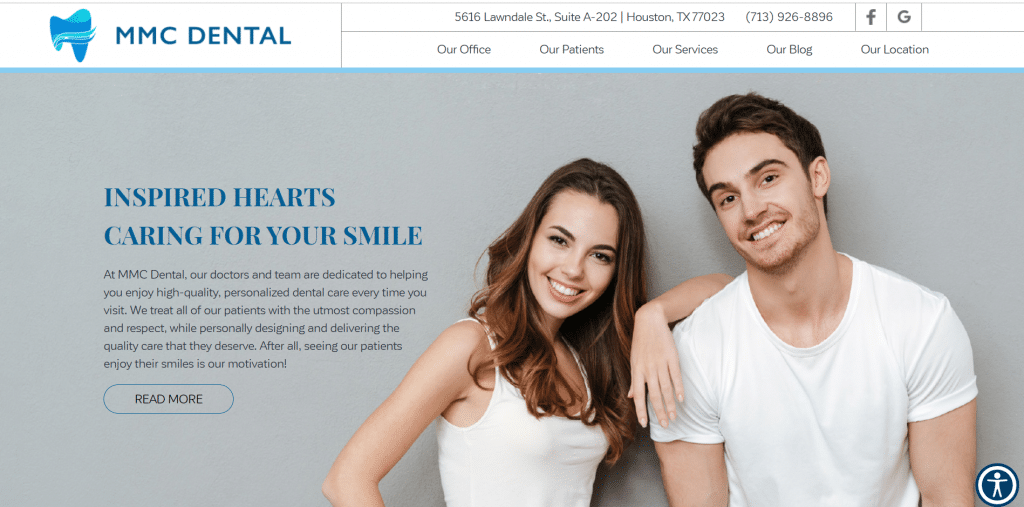 In today's client feature, we would like you to meet Dr. Michael Chan, one of the many talented dental professionals at MMC Dental. Located in Houston, TX, MMC Dental is ready to accept patients with many different needs. Dr. Chan can help you address smile concerns, and show off long-lasting improvements to your appearance and oral health through modern dental techniques. Our goal in providing a new website for MMC Dental was to give everyone on their team a more attractive, SEO-friendly online presence that would help them connect with more people in the Houston area. Just as comprehensive dental work can do more than just give someone a more attractive smile, rebuilding someone's digital presence is about more than just a better-looking website. While the new MMC Dental site has an appealing modern look, we were also able to include important design features that make it mobile-friendly, and easier for Google to analyze and rank favorably. 
Meet Dr. Chan
Dr. Michael Chan has been with MMC Dental since 1999. In addition to receiving his degree from the University of Texas Health Science Center at San Antonio, he also completed an optional two-year General Practice Registry, and an Academy of General Dental Mastership. When working with patients, Dr. Chan takes care to provide results that look great, and offer long-term support. Through modern techniques and custom treatment plans, Dr. Chan can help an individual see significant oral health and cosmetic improvements they are eager to show off!
MMC Dental Can Provide Houston Area Families With Quality Dental Care
The MMC Dental team is ready to provide a range of services to people in and around Houston, TX. In addition to providing cosmetic and restorative smile treatments, MMC Dental can also provide more focused work for people with different needs. The office is ready to receive individuals who need to restore their smile after tooth loss, and those who are experiencing the harmful effects of periodontal disease. MMC Dental can also work with individuals who require oral and maxillofacial surgery.
MMC Dental's New Website Can Help Them Reach More People
While MMC Dental is ready to help people with a wide range of dental concerns, there is little they can do for someone who never comes to see them! Before making an appointment with a dental office, people are likely to go online and find out more about the practices in their area. If a practice has little to no online presence, they can go undiscovered in relevant searches, and lose opportunities to help people in their area.
While MMC Dental was able to offer terrific dental services, their old website looked dated, was not designed for mobile users, and lacked important features for SEO. We were excited to create a new website for their office that looks better, is easier to navigate, and is capable of helping them reach more people! 
How Can I Tell If I Need To Redesign Or Replace My Site?
Typically, a website can be due for replacement or redesign within three to four years. With that said, the quality of your current site can affect that time line. There are some measures of website quality that you can gauge just by looking at your different pages. If your site design looks less than modern, it can make a poor first impression, particularly compared to a competitor's recently renovated digital space. Because Google is moving sites to mobile-first indexing, you certainly need to think about how your site looks and works on phones and tablets. There are also technical improvements a new site can provide that make it easier for Google and other search engines to analyze your pages, and rank them favorably.
Imagine you are looking for someone who can provide dental care in your area. Does your site's appearance inspire confidence in the quality of your practice? Is it easy to see what treatment options you provide? Does your website compare favorably to other local practices? We can provide you with a digital upgrade that makes you more competitive when it comes to online search rankings, and more appealing to visitors. We also provide consistent SEO support, so you can consistently see value in your online presence. 
We Offer Ongoing SEO Support For Your Website
Even with a modern site that looks great and boasts important technical features, the content you share on your site can be vital to your long-term SEO success. We can provide original content on a regular basis for your site. In addition to creating new links that Google can rank and share, your content will create opportunities for you to add important keywords and links that boost your SEO. Your site content can also help you emphasize a certain focus of your practice, to help you target particular people who would benefit from finding someone who can help with their needs.
In addition to providing ongoing support through content creation, we can also help you maintain your site, and avoid problems that can interfere with SEO. We can make sure all of the online information about your practice is consistent and current. Our support can also make it easier for you to spread the word if your office is relocating, or if you have any other important changes to your practice you want people to know about.
Our Digital Marketing Support Can Include More Than Just Work On Your Website
Sometimes, people will find your practice online even if they do not find your website. We offer assistance with reputation management, which can help you generate more positive reviews that can encourage new patients to make appointments. We also provide support on social media platforms. Your activity on Facebook and other pages gives you new spaces to share links, and promote yourself. As part of our support, we can provide you with eye-catching posts, and even help you make sure your pages are being updated regularly! 
MDPM Consulting Is Ready To Help You Improve Your Online Presence!
At MDPM Consulting, we keep up with the changing trends in website design and SEO so that we can provide continued support to our clients! We can work with you on redesigning or replacing your old website, and we can help you reach more people by providing quality, SEO-friendly content. The right changes to your online activity can make you easier to find on Google and other search engines, while also encouraging people who find your practice online to schedule appointments. For more information about how we can help you, please call MDPM Consulting today at 972-781-8861.