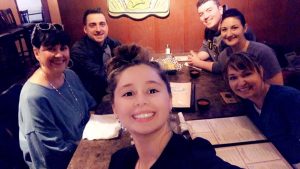 It's Friday, which means it's time for us to spread the love on the blog. At the end of each week, we like to give a shoutout to one of our awesome clients. We have the great fortune to work with amazing dentists from across the country. This week, we're giving the spotlight to some of our excellent dental clients that recently celebrated a very important event. That's because last week was Dental Assistants Week! Every dental office needs the hard work and dedication of dental assistants to make the practice run. We're celebrating some of our clients who celebrated!
CIDKC Treated Their Assistants to a Lunch Out
The Cosmetic and Implant Dentistry of Kansas City does some amazing work for their clients. Their ability to reconstruct smiles for patients has garnered attention for the practice. Part of what makes the service at CIDKC so incredible is the work of dental assistants Brandi and Carter! The team at CIDKC decided to show their appreciation for the work their dental assistants do by taking the team out to lunch last week. The team documented the experience on their Facebook page.
The Dental Impressions Team Added a Facebook Feature
Another of our clients who celebrated Dental Assistants Week is the team at Dental Impressions. This practice is known for friendly care in a comfortable environment. A huge part of what allows Dental Impressions to build this culture is the work of their staff. The team decided to show their appreciation by highlighting their dental assistant, Stephanie, on Facebook. Showing your team recognition is a great way to build the internal culture at your practice!
Dental Assistants Week Is a Great Time to Show You Care
Obviously you appreciate the work your dental assistants do. Without them, you wouldn't be able to offer the same excellent level of care to patients. Showing your appreciation on your social media channels is a great way to publicly thank your team and create engaging content. While you may know how much your team means to you, sharing your feelings on Facebook can reenforce your positive culture to patients who may follow your page. Finding topical events throughout the year, like Dental Assistants Week, is a great start when you set out to create content for your pages.
MDPM Consulting Can Help Generate Content for Your Social Pages
Creating enough content to fill up your social media channels takes time, effort, and planning. You may not have the resources to do all of this on your own, but you don't want to miss out on the value social media can bring to your practice. MDPM Consulting can help. We offer social media strategy and management services. Learn more about our social media services by contacting MDPM Consulting in Dallas, TX at 972-781-8861.