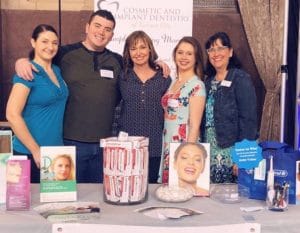 Another Friday means another client feature on the MDPM blog! We are fortunate enough to work with some incredible dental practices from around the country, so each Friday, we give one of these fantastic clients a shout out. This week's spotlight goes to the Cosmetic and Implant Dentistry of Kansas City. This team was recently nominated as a candidate for Kansas City Small Business of the Year! We're so proud of the work that this dental practice has done, and we feel fortunate to be able to assist this excellent team!
Cosmetic and Implant Dentistry of Kansas City Puts Patient Comfort First
One of the ways that the CIDKC team has cultivated its reputation as a prominent small business in Kansas City is by focusing on the patient experience. CIDKC features a spa-like environment, where patients feel welcome and comfortable before, during, and after treatment. An intimidating, clinical environment creates barriers for many patients with dental anxiety. CIDKC removes those barriers with attention to detail — like complimentary beverages, wifi, and massage chairs. Creating a patient-experience-focused environment sets this dentistry apart.
CIDKC Has Been Named as a Candidate for Kansas City Small Business of the Year
Being recognized by peers as an active, and thriving small business has been an energizing experience for the CIDKC staff. The team attended a showcase at Union Station earlier this week, where they showed off products and met with other small business leaders. The practice's core mission is to provide customized, quality dental care in a comfortable environment, and it feels great to have that hard work recognized by peers from the Kansas City area.
Sharing Your Practice Accomplishments Online Benefits Your Business
When your dental practice experiences a success, you should absolutely share that story online. Use your social media channels and your website to communicate this information. The people that follow your accounts like your business and want to see you do well. This is exactly the type of content that your followers are looking for. Additionally, success stories build your online reputation. When potential clients are researching your practice and they see that you're an active, successful dentistry, they're likely to hold you in a higher regard.
MDPM Consulting Wants to Share Your Practice Success Story
If you're a current MDPM client, we hope that you'll share your accomplishments and updates with us. We want to use these pieces of information on your social accounts! If you need help developing your online presence and brand, MDPM Consulting can help. We offer website building, site redesign, SEO, and social media services. Learn about how MDPM Consulting can help your dental practice by contacting our Dallas, TX office at 972-781-8861.