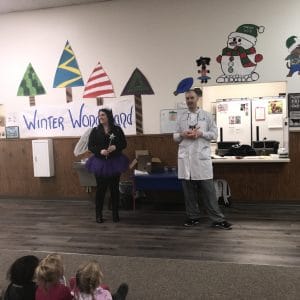 It's Friday, so of course we're gearing up for our favorite blog post of the week. That's right, it's time for another client feature! We get to work with incredible dentists from all over the country, so each week, we like to give a spotlight to one of our clients who's doing something exceptionally cool. This week, that spotlight is shined on the team at Calcagno Family and Cosmetic Dentistry, who celebrated National Tooth Fairy Day with an awesome event. Members of the team (including the Tooth Fairy!) visited the daycare next door to answer kids' questions about their teeth.
The Calcagno Team Made National Tooth Fairy Day an Event
We always encourage our clients to use the calendar to help them organize events and marketing strategy — especially when that strategy includes outreach. National Tooth Fairy Day is a pretty silly holiday, but it actually serves as an opportunity to educate younger dental patients in an approachable manner. Dr. Brodersen and Barbara visited the children at a next door daycare to deliver some demonstrations and discussions with Pre K students. Reaching out to young dental patients in a way that makes them feel comfortable can be huge when it comes to getting kids to attend their appointments.
The Team at Calcagno Family and Cosmetic Dentistry Do a Great Job of Engaging Patients
Working with the staff at Calcagno is great, because this team fully embraces the fun side of dental marketing. Creating content and organizing events at your dental practice should be fun. Whether it's sharing photos of their office holiday celebrations on Facebook or hosting fun events for children, the Calcagno practice does an excellent job with their online and in-person presence. These steps, though they may seem small, are huge when it comes to branding your practice for new patients and engaging the patients you currently have.
A Mix of Online and Face-to-Face Presence Is Best for Your Practice
In almost every case, you should be using multiple methods to market your dental practice. Lining up those tactics can create a cohesive strategy. If you're a strong face-to-face presence, you can create a personal image for your practice. Then, when patients find you again online, they already know who you are. Your digital presence should back up this friendly face-to-face presence with useful information. Make sure patients can use your website to easily learn about what services your practice offers. Combining tactics leads to the best results.
MDPM Consulting Will Help with Your Presence
If you'd like to start using digital tools like your website and social media pages to help drive more patients to your practice, MDPM Consulting is ready to help. We specialize in dental practice marketing, so we've got plenty of tips and tons of experience. Learn more about how MDPM Consulting can help by contacting our Dallas, TX office at 972-781-8861.