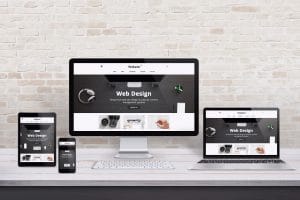 If you are concerned that your efforts to update your website might interfere with the work you have put in to boost your SEO, you can be understandably hesitant to even consider changes. Unfortunately, the life cycle of a website can be shorter than you might expect, and you can have a harder time reaching people by failing to keep up. Shifts in design trends can leave your older site looking outdated and unattractive. If you are not keeping up with changes in website technology, your competitors can implement new features that help them better communicate with Google, and boost their SEO. We can help you update your site, and provide a better experience for users, while taking care to preserve your ongoing SEO efforts.
Is It Time To Update Your Website?
A website is typically going to reach the end of its life cycle after three to four years. If you have left your site's design untouched for this long, you may start to struggle to maintain your ranking on relevant searches, particularly if other dental practices in your area are doing a better job staying current. While you can be cautious about making changes that interfere with your SEO efforts, you may be hurting your practice by NOT making changes!
Making Sure Digital Changes Avoid Creating Problems For Your SEO Efforts
We can use our technical expertise to ensure that your website redesign is successful. In addition to keeping up with new trends and technology that can boost SEO, we can protect your site by avoiding mistakes that people often make during a transition. That means making sure none of your links lead to dead pages, or 404 errors, cutting out any duplicate content that can hurt your rank, and ensuring that all of your links are properly indexed. Of course, this is not the only support we offer – we can also make sure that your updated design reflects popular trends, and looks appealing to visitors!
We Can Offer You A Brand New Website, Too!
For some patients, an updated site design will be enough to satisfy their needs. However, you may be looking to build a brand new website – this is something we can also help you with! If you need a new website for a new practice, if you want to dedicate a site to a specialty service you provide, or if you want to completely abandon an older site for something new, we use technical skills and a thorough understanding of SEO to provide you with an amazing digital presence!
Talk To MDPM Consulting About A New Design For Your Website!
Talk to MDPM Consulting if you are interested in a new design for your website! We can make sure that your new page looks terrific, while also taking care to boost your SEO with this new update! For more information, you can reach us via the contact information below.
Are you ready to change your website design? Contact us today and let us help! Email MDPM Consulting at info@mdpmconsulting.com, or call us at 972-781-8861.