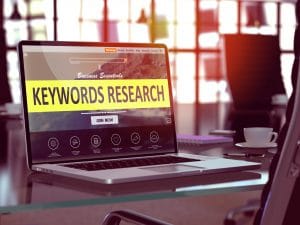 You might be well aware that keywords matter when it comes to your website's success, but unsure of what role they play in helping people find you online. It can help to think about keywords as the phrases you expect people to use when they perform searches, or the kind of terms that answer common questions people have about dental work. To select your optimal keyword choices, research can help. We can help you reach more people by providing content with smartly selected keywords, and by paying attention to the activities of nearby users and practices.
Focusing On Keyword Research To Help With Your SEO Efforts
Because keywords are meant to correspond to what people are searching for online, they can play an important role in your push to boost your site's SEO. With this in mind, your keywords should be centered around what your patients want from dental care, and around terms that patients – not dentists – are likely to use when trying to look for information on oral care.
The Right Content Can Offer A Big Boost To Your Content Marketing Efforts
Because we provide regular content for your website, we create more opportunities to use different keywords that are beneficial for your practice. In the past, sites would try to utilize keywords, while ignoring the need to provide content that people could actually use and appreciate. Thanks to changes to Google that have occurred over time, this strategy has become less effective. While keywords certainly DO matter, they should be implemented in work that is genuinely helpful, and engaging. We make sure that all of the content posted to your site is original, user-friendly, and supported by the right keywords.
Unsure Of How To Make Your Online Marketing Efforts More Effective? We Can Help!
Even if you recognize the importance of having a strong online presence, you can be unsure of what you need to change to make your website more useful. We can talk to you about your site, and provide guidance when it comes to reaching more people online, and introducing your practice to potential patients. Those efforts go beyond keywords and content – we can help you with technical SEO matters, provide support in updating your site design, and with your efforts to connect with people through social media!
MDPM Consulting Can Help You Do Better Keyword Research, And Reach More People
MDPM Consulting can help you reach more people online, and attract new patients to your practice! With better keyword research, and quality content, we can make your links look better to Google and other search engines, so you can raise your rank in SERPs! For more information on how we can help you, contact us using the information provided below.
Are you using the right keywords to boost your website's SEO? Contact us today and let us help! Email MDPM Consulting at info@mdpmconsulting.com, or call us at 972-781-8861.