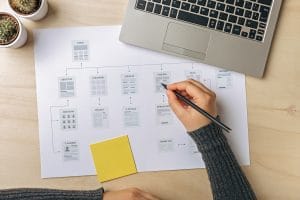 At this point, everyone knows they need a website. Websites help new clients find you. Without a website, it's difficult to give people a concise place to find information about your business. Plus, when you own and operate a website, you can track things like search traffic and clicks to see how many people are actually visiting your website. You may not already know that your website is the source that users trust the most for information about your business. That means that managing and updating your website is vital for the health of your business.
More than Half of Users Believe that Business Websites Have the Most Up-to-Date Info
Over 50% of users trust a business's website over directories or Google My Business when it comes to getting the most accurate information about hours, services, and business contacts. Google My Business is an important tool that you should absolutely use, but first, you should make sure your website is doing its job. A BrightLocal study shows that 28% of users rely on Google searches to find healthcare services. After making a Google search, those users are going to rely on the website that they find for your business to make a decision about using your services.
Inaccurate Information Is Users' Biggest Pet Peeve
Websites are supposed to be useful. That's why search engines were designed, so that people could easily and quickly find the information they need. If users are going to your business's website, only to find outdated information about your phone number, address, or hours, it's going to be frustrating. Any out-of-date or unhelpful information on your website should be purged in favor of an easy-to-use interface and pleasant design. Your website should be an asset when it comes to attracting new business, not a hindrance.
Use Google My Business and Your Website Together for the Best Results
A strong marketing strategy creates a comprehensive, consistent online presence. Users trust Google for things like reviews, directions, and photos, so updating your Google My Business profile is important. However, your website is the end of your online funnel. You want users to find themselves on your website, deciding to use your services. They won't get there if they can't find your website, or if your website is poorly constructed when they get there.
MDPM Consulting Will Help You Manage Your Presence
Managing an online presence for your business takes time and attention-to-detail. If you're already wearing another important hat, like running the business, it may be difficult to focus on online marketing. MDPM Consulting will help. We'll create an easy-to-use website for you, and manage your online reputation with tools like Google My Business. Contact MDPM Consulting in Dallas, TX at 972-781-8861 to learn more about our services.