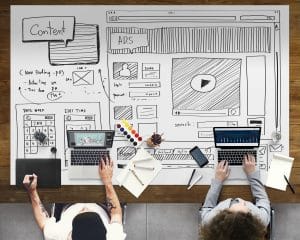 Effective marketing practices are all about strategy. You need to have a plan in place that you can act on to achieve a goal. No matter what the marketing goals for your business are, content creation should be part of your plan. Creating content specific to your business can drive search traffic, increase reputability, and create a distinct personality for your brand. These are valuable assets in a digital marketplace. If your dental practice is looking to attract new business, focusing on content creation for your practice can help. It's time to explore why.
Creating Your Own Marketing Content Can Drive Search Traffic
In a very functional sense, creating new content under the banner of your social media pages or website can increase the searchability of your business. Google constantly seeks out and indexes new web pages that are created. If your website has a blog that regularly puts out a new post, creating a new web page, Google will index that page, and the information in the post may lead to users finding it via search. If you consistently provide new, useful content via a website blog, you can often increase website traffic.
Increase Your Reputation Online with Content Creation
Your online reputation is hugely important to how people perceive your dental practice. When new clients search for a dental practice, they want to know that they can trust the service they are receiving. They'll often rely on the recommendations of friends or online reviews when making a choice. Encouraging reviews from your patients is a form of content creation. Responding to Google reviews demonstrates that you are an attentive, active business. Creating content for your blog or social media channels that demonstrates your expertise in your field can bolster your reputation as well.
Find Your Individuality with Content Creation
When you create your own online content, you also have the opportunity to create a brand for yourself. What services and aspects of care are important to your dental practice? How do you sound in your social media posts? Who are the people working in your practice office? Finding an online identity is an important part of content creation. Your online brand feeds into your reputation, your perception, and patient expectations before they arrive at your practice. Don't miss the opportunity to shape your perception by creating online content.
MDPM Consulting Can Help with Your Content Creation
You don't have to feel lost when trying to create content for your dental practice. Managing and operating a dental practice is plenty of work on its own. MDPM Consulting can help with the rest. We can produce a website blog and manage your social media channels for you. Learn about the ways we can help with content creation by contacting MDPM Consulting in Dallas, TX at 972-781-8861.