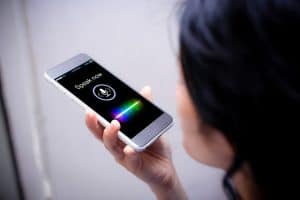 Google makes regular algorithm updates that can affect the rank of websites. While it is important to keep up with these changes, it is also important to recognize that this is only one of several factors that can impact SEO efforts. To stay visible online, you should also pay attention to changes in search trends, and in technology. For example, people are increasingly using voice search to find information and services online. Does this call for a change in your approach to SEO? In this case, the ideal approach is the same for conventional searching – you can see success when you focus on meeting user intent. We can help you with this by providing quality content, and by keeping your website in top form!
Keeping Up With The Ways People Find Businesses Online
While the way people approach online searching can change, a reliance on search engines – especially Google – to find information has been consistent for a long time. Being visible in digital spaces can be key if you want to attract new patients, as people in search of dental care are likely to take their search to Google, either through voice search or through typing. We can make sure you are easily found by people in your area, and we can keep your website content focused on answering questions people tend to enter when performing searches related to their oral health.
Following The Right SEO Principles
As Google continues to make updates, the company's intention is to make sure the best information a person could ask for is also the easiest to discover. With that in mind, we make the user experience a top priority when we focus on improving your SEO. In the past, heavy keyword and link usage could be counted on to boost a link's location on SERPs. The changes to Google have made this approach less effective, and made your ability to satisfy a user's intent crucially important.
Rely On Our Expertise To Improve Your Efforts To Reach People Online
We can help you navigate the world of SEO, and bring more people to your practice! We can consistently add new content to your website, which will add to your discoverable links, and match well with the kinds of searches people are performing. We can also help you improve your website design, or even replace an older website, so that you can provide the most satisfying experience possible to people when they find your site.
Talk To MDPM Consulting If You Have Questions About Voice Search
If you want to make sure your site can be found by people using voice search, or if you have any other questions that concern SEO, MDPM Consulting can help! For more information, you can reach us by using the information provided below.
Are you worried about how easy you are to find when people use voice search? Contact us today and let us help! Email MDPM Consulting atinfo@mdpmconsulting.com, or call us at 972-781-8861.