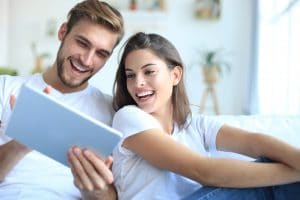 While the latest craze in the world of dental care is not likely to become one of the absolute top trends online, it is true that some oral health matters can acquire more buzz than others. While your goal with online marketing is focused on introducing yourself (and your services) to local people, you should know that addressing what people are searching for can positively impact your SEO, and your overall marketing efforts. To help you reach more potential patients, we provide original content that can resonate with people online. As a result, you can more successfully promote your experience, and your practice, to nearby people interested in dental care!
Creating Engaging, Useful Content For Potential Patients
Because Google and other search engines are focused on providing better results, and more useful links, online marketing trends can change over time. While it can be hard to predict what algorithm change Google might implement next, it is easy to appreciate their overall goal – making their site more useful to users. We provide content that is original, and relevant to the interests of people who might be looking for dental care, or those who have questions about their oral health. By putting an emphasis on originality and quality, we can provide you with content that can offer consistent value for your SEO efforts.
Consistent Efforts To Produce New Links Can Help You Reach More People
Online trends can change, and so can the type of oral health concerns people have. For instance, when Halloween is fast approaching, you might expect people – especially parents – to think more critically about the cavity risks that sugary products pose. We can keep your site updated regularly, so you can share content that addresses active concerns. It should also be noted that when you have more links, you give Google and other search engines more of your content to find.
We Can Help You Keep Up With Online Marketing Trends And Changes!
If you want to make sure your online marketing efforts have actual value for you and your practice, you will have to keep up with online trends, and changes in digital technology. We can help you address every area of online marketing that can affect your potential reach. In addition to providing content, we can help you change your site design, replace your old website with a new one, and manage your social media activity! With our dedicated support, and ability to keep up with the digital marketing world, you can enjoy an online presence that truly benefits your practice!
MDPM Consulting Can Provide Relevant, SEO-Friendly Content!
The right content can appeal to users, and address their concerns and questions. MDPM Consulting is proud to supply our clients with the kind of quality work that can help them make meaningful SEO gains, and reach more people! To learn how we can help your practice, you can reach us with the contact information provided below.
Are you providing useful, relevant content on your website? Contact us today and let us help! Email MDPM Consulting atinfo@mdpmconsulting.com, or call us at 972-781-8861.