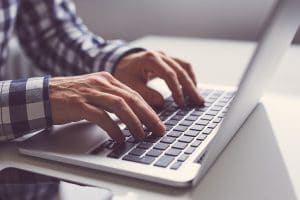 If you are focused on reaching more people with your website, you need to stay aware of what Google and other search engines value from sites. While the right technical features are important, and there is value in using relevant keywords, you should treat quality site content as a priority. From the perspective of a search engine, the most useful link is the one that best answers a user's question or concern. The right content can provide original, relevant information on the subject someone likely cares about. Because of this, we provide sites with quality blog content, which can help with SEO, and connect to more people.
Your Content Can Play A Big Part In Where Google Ranks You
Google's makes regular efforts to improve their site ranking and sorting efforts. As their algorithm continues improve, the search engine becomes better at recognizing sites with real value, and downgrading those sites that rely on "tricks" to boost their rankings. With effective, well-made content, you can better maintain a quality site. As a result, you can improve your rank in relevant searches, and maintain visibility online.
We Can Help You Create Consistent, Beneficial Content
We offer packages with weekly blogs, multiple blogs per week, and daily blogs. Each new blog focuses on services and oral health matters that are relevant to your practice, and the needs of potential patients. Each new blog features relevant keywords, and creates a new link for Google to find and share. The overall effect of these efforts will make your site appear more beneficial to users interested in dental matters, which can have a positive effect on your rank.
Count On Us To Help You Stay On Top Of SEO Efforts
Your online presence can play a big role in your efforts to grow your practice, as people often turn to their computer or mobile device to find important services. We can help you improve your digital visibility by providing you with a modern website, by helping you update your website design, and by supporting your site with support and new content. As online marketing trends change and update, we can help you adjust so that you continue to benefit from better SEO!
MDPM Consulting Can Help You Boost Your SEO With Better Content
With better website content, you can make sure Google sees more value in your site, and provides your links with better placement in relevant search results. If you have concerns about your current online marketing efforts, or if you need to set up your digital presence, we can help! To find out more, you can contact us with the information provided below.
Are you ready to reach more people with better site content? Contact us today and let us help! Email MDPM Consulting atinfo@mdpmconsulting.com, or call us at 972-781-8861.