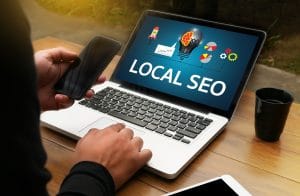 When you make local SEO your priority, you can send clearer signals to search engines like Google that your site is particularly useful to people near your practice. As a result, users who want to find nearby dental services are more likely to find you in their search results. Local landing pages are used by many local businesses interested in establishing better local SEO. The problem with this approach is that it can lead to duplicate content, which can hurt your overall SEO. The problem can be even harder to manage if you are attempting to promote yourself to areas around your city. We can help you market your practice online more effectively by taking a more modern approach to local SEO.
Targeting Multiple Areas Can Lead To Duplicate Content
If you are attempting to target your site towards several areas, you can run into the problem of providing common or duplicate content on pages, which can devalue your website. Google's algorithm sees duplicate content as having little value for potential visitors, which means the site shows less potential benefit. This can become frustrating – after all, you want to make sure people near your location, even in different cities, know where you are and what you do! By moving away from the reliance on local landing pages to target different areas, you can avoid costly SEO mistakes.
Boosting Your Local SEO In Multiple Areas
How can you promote your practice's services to more than one place, without creating duplicate or common content? Finding ways to address your surrounding area, rather than setting up separate pages to push your site to different people, can help. You can also have organic references to your location included in new website content, which can help you with your local SEO while avoiding the issue of duplicate content.
We Can Help You Effectively Promote Yourself In And Around Your Location
With the right website features, and original content, you can make sure people near your practice are more likely to find you when they want to find local dental services. By prioritizing local SEO efforts, we can help you see more value from your online marketing efforts.
MDPM Consulting Can Improve Your Local SEO, And Reach More People Around You!
MDPM Consulting is ready to help you improve your local SEO by avoiding common mistakes, and keeping up with the effect algorithm updates can have on digital marketing efforts. We provide technical support, quality content, and assistance with your social media management. To find out more about how we can help you grow your practice, you can reach us with the contact information provided below.
Are you ready to reach more people in your area with your online marketing efforts? Contact us today and let us help! Email MDPM Consulting atinfo@mdpmconsulting.com, or call us at 972-781-8861.