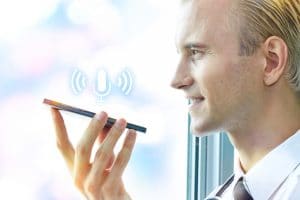 Adding modern features and functions to your dental website can make your online presence appear impressive, but you should keep in mind that some updates benefit you more than others. For some site owners, the idea of offering voice search can be enticing. This new approach to website navigation can seem attractive, at least as a way to make your page stand apart from competitors' sites. What you should consider is that voice search is a recent technology, and visitors may have little interest in using it instead of a drop-down menu, or text search. We can help you understand how identifying and implementing the right site updates can positively impact your SEO.
Are People Really Going To Use Voice Search On Your Website?
Will visitors to your site be impressed by your inclusion of voice search? Also, how often will they really use it? While website updates certainly matter, you should always consider how an update will lead to a better site experience, or make people more likely to set an appointment at your practice. Updates for the sake of updates can lead to more work, with less to show for the effort than you might have hoped to see.
Some Website Updates Can Carry More Value Than Others
While some website changes can have questionable value, others can offer significant benefits. For instance, if you have not made the necessary changes to offer a good site experience for mobile users, your visibility may have been hurt due to Google's move to mobile-first indexing. You should also consider how introducing a new website design, or even creating a new website to replace an old one, can lead to easier navigation, and give your site a more professional look.
We Can Help You Maintain The Right Web Presence To Support Your Practice
In addition to providing the technical skills to update or replace an older website, we can help you understand what changes are most relevant to your practice, and your efforts to boost your SEO. We keep up with the changing trends in the world of online marketing, and provide the kind of expert insights that help you do more with your digital presence!
Talk To MDPM Consulting About Updates That Truly Benefit Your Website
MDPM Consulting is ready to help you identify what changes might lead to better online marketing. In addition to providing guidance on matters related to your SEO, we can help you create, update, and maintain your web presence. If you wish to learn more about the effect voice search and other modern features might have for your online marketing efforts, you can reach us by using the contact information provided below.
Will the addition of voice search really help your website, or your practice? How can you tell when a site improvement will truly benefit you? Contact us today and let us help! Email MDPM Consulting at info@mdpmconsulting.com, or call us at 972-781-8861.