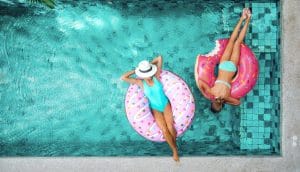 The weather is warming up (mostly), which means summer is almost here! Barbecues, days at the pool, and vacations are all in store for the coming months, but the changing of seasons also presents an opportunity for your dental practice. It's time to set your summer marketing schedule. When you create content for your social media channels, you should use the seasons for inspiration. Summer is here, so it's time to get your seasonal marketing calendar ready. What kinds of promotions and events can you host to make this the best summer of marketing yet?
Schedule Promotions for Your Dental Practice Based on the Season
Putting together a marketing calendar can feel a little intimidating. You may feel inspired in the moment to create a day's-worth of content, but creating content for the whole month? That takes some strategic planning. You should use the summer season to guide you. Is there a promotion you can run for college students who will be home from school for a few months? Could you host a family vacation photo contest for your patients? Seasonal promotions are timely and fun!
Choose Engaging Content Ideas for Your Audience
You know your patients better than anyone else, and over time, you develop a sense of what kind of content they like. You should create your marketing calendar based on the needs and wants of your patients. Do they respond to cosmetic treatment specials? Do they like informative social media posts. Learning your audience is an important part of effective marketing. Simply put, you should determine what type of content your audience responds to, and give them more of it.
Plan Ahead for Seasonal Marketing
As with most things in life, planning ahead is to your benefit! When you plan ahead with your marketing calendar, you will have the flexibility to adapt as you go. Maybe you realize that a promotion you're running is having a high success rate, and you want to divert more marketing time and resources to that promotion. You'll have the ability to do that if you already have a plan in place. Marketing on the fly leads to a lack of cohesion and vision, and those things are counterproductive to your marketing efforts.
Let MDPM Consulting Handle Your Marketing
Marketing is its own beast. If you're already working as a dentist or managing a dental practice, you might not have the time to devote to marketing plans. MDPM can help! Our team of experts specializes in dental practice marketing. Whether you need a new website design, SEO, or social media content, we've got you covered. Learn about all of our services by contacting the MDPM Consulting office in Dallas, TX at 972-781-8861.