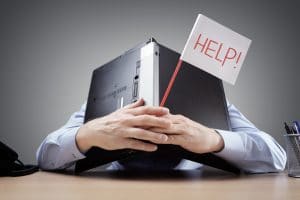 A recent technical problem led to many web pages losing their place on Google's index. Fortunately, the problem was recognized, and work was done by Google to correct the matter. So why should you be concerned about an issue that Google experienced, and fixed? Technical problems like this one can interfere with your online marketing efforts, and cause drops in activity that may make you perplexed. While the necessary fix was on Google's end, sites that were eager to return to the index could have added themselves back with the Inspect URL tool. We keep up with your online marketing activity, so you can avoid the consequences of being caught off guard by technical problems.
Are You Keeping Up With Your Online Visibility?
If you lack the time, resources, or technical knowledge to keep up with your digital marketing efforts, you can miss problems that might arise. While the recent de-indexing issue could be corrected without your involvement, other changes can require action on your end. For instance, if you are not prepared for a significant Google algorithm update, you may not understand why you are losing site traffic. We pay attention to these changes, and help you respond promptly, so that you can maintain better SEO.
Paying Attention To Your Digital Marketing Success
People are increasingly reliant on online information to make important decisions. Because of this, your web presence can be key to attracting new patients to your dental practice. You can struggle to keep up with other practices in your area if you are not cultivating a successful digital presence. We are ready to help you improve your SEO, and move up the search engine rankings, by keeping up with online marketing trends. When you do a better job keeping up with new technology, and shifts in website design trends, you can continue to effectively promote yourself to potential patients!
You Can Count On More Than Just Your Website If You Want To Enjoy Successful Online Promotion
Your website is not your only online tool to help you promote your practice. We can help you maintain better social media activity, so that you can enter new spaces to interact with patients. The content you share on social media can focus on attracting new patients, and it can strengthen your relationship with your current patients by letting them see you and your team in a more personal light.
MDPM Consulting Can Help You Maintain Your Online Marketing Success
MDPM Consulting is ready to help you create, and maintain, a successful digital presence! With the right website, content, and social media activity, you can more easily connect with people near you, and attract new patients. To find out more, you can reach us by using the contact information provided below.
Are you ready to respond when technical issues interfere with your online marketing efforts? Contact us today and let us help you! Email MDPM Consulting at info@mdpmconsulting.com, or call us at 972-781-8861.