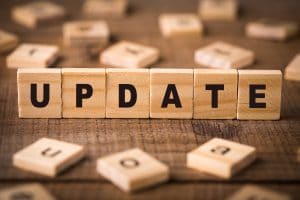 There can come a time where your current website just cannot provide the kind of online marketing success you want. Updating your online presence can lead to more attractive, modern-looking pages, as well as functional improvements that make the site easier to navigate. However, changes also create opportunities for mistakes, which can have a costly effect on your SEO. In addition to providing new websites for clients, we can also update the design of your existing site. When you can count on expert support during this period of change, you can look forward to the benefits of keeping your web presence current, without the complications.
Why Do Websites Need To Be Updated?
The website you use to promote your practice makes important information like your location, your hours, and the dental services you provide readily available. While you may feel that you only need a modest web presence, consider that the quality of your site, and its ability to provide a better experience to visitors, can impact how easy you are to find online. Websites should typically be updated every three to four years. In that period, design preferences and technical features can change. Your site may continue to work well, but your SEO can suffer as other practices near you keep up with those changes.
Technical Problems That Occur After An Update Can Hurt Your Site
If your site update efforts result in 404 Page Not Found responses and broken links, and these issues are not found and promptly addressed, you can see a drop in your search engine ranking. When users find your site, and experience these issues, they can quickly depart in search of another site. This can impact how Google evaluates your user experience, which can hurt your SEO.
Make Sure Your New Or Redesigned Site Provides Real Value At Every Link
As search engine algorithms have been updated, the value of sites that provide genuinely positive user experiences has increased. Remember that Google and other search engines want people to quickly find content they benefit from – changes to the way pages are ranked tend to focus on ways to evaluate a site's value, and not rely on exploitable SEO tactics. When you update your site, eliminating "thin" pages that have little value can be good for your online marketing efforts. We provide original and user-friendly site content that can lead to better interactions with potential patients, and more growth!
MDPM Consulting Can Help You Enjoy A Successful Site Update!
A successful site update can lead to positive things for your practice, but problems with the update can create trouble for your online marketing progress. MDPM Consulting is ready to help practices that are ready to update their online presence, and those ready to create new websites. For more information, please contact us using the information provided below!
Are you prepared to successfully update your dental practice's web presence? Contact us today and let us help you! Email MDPM Consulting at info@mdpmconsulting.com, or call us at 972-781-8861.