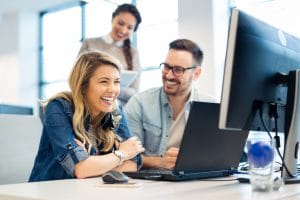 While there are still people who attempt to shape their content to impress search engine algorithms, many have come to recognize how this strategy can fail to really boost their SEO. Google has implemented many updates over the years, with the goal of finding and providing the most useful website content a person could want, based on their query. Because of these changes, the value of content written with a human audience in mind has gone up, while solely SEO-centered writing has become less useful. We can provide consistent website content that can satisfy visitors, and improve your SEO!
Building Content To Impress A Search Engine Can Be Less Helpful Than You Might Expect
As Google's algorithms have become more sophisticated, the writing "tricks" people would sometimes use to craft content have become less successful. In other words, inserting keywords and links to "boost" your visibility can be ineffective, and may end up hurting your efforts to promote your practice online. Algorithm updates have implemented different changes over time, but the goal of any update is to make it easier for users to find website content they can appreciate.
We Can Boost Your SEO By Producing Original, Quality Content
In addition to helping you create a modern website, or implement website design changes that improve your SEO, we can keep your site active with effective content. New posts create new links for search engines and people to discover. They also create opportunities to make a case for your practice, and the expert care you offer. When people find the information they want on your site, they can stay on it for longer, and your site's SEO can further benefit because you are offering a better user experience.
Improve Your Online Marketing Strategy By Letting Go Of Outdated SEO Practices
Online marketing trends, like websites, can become less useful over time if they are not updated. If you have an outdated web presence, your site can look outdated, and you can lack important technical features. If your approach to SEO has not changed over time, you can miss important trends, and fail to appreciate how Google algorithm updates have impacted digital marketing. Just as we can help you improve your practice's website, we can make sure you continue to see success with your web presence by keeping up with the changing world of SEO!
MDPM Consulting Can Help You Boost Your SEO With Effective Site Content
MDPM Consulting can help you grow your practice through an effective online marketing strategy. In addition to helping you maintain an attractive website, we can offer important insights on SEO trends, and produce content that can reach more people. To learn more, please use the contact information below to reach us!
Are you providing quality content on your website? Contact us today and let us help you! Email MDPM Consulting at info@mdpmconsulting.com, or call us at 972-781-8861.