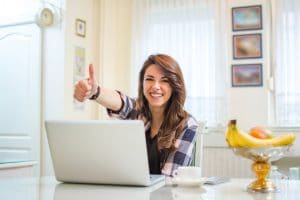 If you already have an online presence for your dental practice, you may have set up certain strategies to help you promote your services. What you should know is that trends and website technology tend to change, which can impact the effectiveness of different SEO efforts. Your current strategy for online marketing may be ineffective because you are not caught up on changes that affect websites, and Google's approach to ranking pages. We can help you understand what you should do to improve your online marketing success in 2019. We can also provide ongoing support and knowledge to sustain that success, so you continue to see value from your online presence.
Make Important Website Improvements To Boost Your SEO
An older website may have problems that affect your ranking in Google, and other search engine platforms. Has your website been updated to work well on mobile devices? If your site is hard to navigate on a smartphone or a tablet, your site can be ranked lower. You should also have schema markup added to your page, so you can provide more useful information on SERPs (search engine results pages). These technical features matter if you want to enjoy better SEO. Of course, your success in online marketing can be impacted by more than just changes to technology. Changing trends in website design also matter – if your site looks out of date, potential patients could become less interested in the content on your page.
Are You Providing The Kind Of Content That Really Benefits Potential Visitors?
User engagement matters when it comes to SEO. If your site content is not appealing or relevant, you can send people away quickly, which can impact your ranking. We can provide consistent, quality content on your page. In addition to providing a better user experience, these posts create new links that can be found, and shared, by Google.
We Can Help You Find A Better Approach To Online Marketing
The right approach to online marketing can help you improve your SEO, and see more value from your website. Between updates to technology, changes to Google's algorithms, and changes in website design trends, you can find it difficult to sustain your SEO in the long term. We keep up with technical matters, Google updates, and website design, so we can help you enjoy continued benefits from your website.
MDPM Consulting Can Help You Boost Your Site's SEO, And Improve Your Online Marketing Efforts
MDPM Consulting can help you make better use of your website, and attract more people to your dental practice! An older website can be less effective for your needs, and changing trends can make your strategy for reaching people less effective. We pay attention to trends, and technology updates – by focusing on these changes, we can help you see consistent value from your digital presence! To learn more, you can reach us via the contact information provided below.
Is your current approach to SEO still effective in 2019? Contact us today and let us help you! Email MDPM Consulting at info@mdpmconsulting.com, or call us at 972-781-8861.