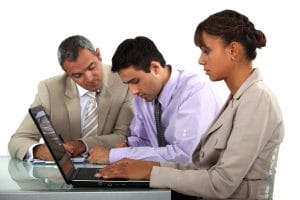 Google is set to introduce another broad core algorithm update this month. The algorithm updates that take place can differ in their significance, and in what type of sites are most affected. While specific changes can be hard to anticipate, this could be one of the most significant changes to take place in several years. What can you do to avoid negative effects from this broad change? Because we focus on making sure your site relies on organic SEO – site features that improve your ranking by focusing on giving visitors a better experience – you can count on better consistency in your online marketing efforts.
Algorithm Updates Can Make A Big Impact On Your SEO Efforts
While some updates from Google can focus on particular types of sites, or information, a broad update can make improvements to the search algorithm that have a wider potential effect. When a change is implemented, you may not know exactly what was modified, but you can find that your site is seeing different levels of engagement even though you changed nothing on your end. We monitor the developments and trends that impact online marketing, so we can help you react when a change on Google's end seems to affect you.
A Focus On Organic SEO Can Help You Maintain Your Online Marketing Efforts
Even if you have no idea what Google is doing during an algorithm update, you can count on one thing – they want to continue giving users better experiences. When you think about the user who looks to Google for information about dental care, or local dental practices, Google wants them to find the most useful links possible. We make an effort to provide the right technical features, and the right site content, to help people in your area find you, and receive compelling information from your page. When your site is built to benefit users, and not just sway an algorithm with keywords and links, you can stay more visible even when updates take place.
We Can Help You Stay On Top Of Updates That Affect SEO
Algorithm updates, new technology, and even website design trends can impact how easy you are to find online, and how likely someone is to have a positive experience on your page. We are ready to take on the many different factors that affect your online marketing efforts, so you can rely on your webpage to attract new patients.
MDPM Consulting Can Help You Prepare When Google Updates Take Place
MDPM Consulting can help you successfully promote your practice online, even when Google updates have the potential to impact the effectiveness of your current efforts. To learn how we can make sure your site consistently offers value for your dental practice, contact us with the information listed below!
Are you ready for Google's upcoming algorithm update? Contact us today and let us help you! Email MDPM Consulting at info@mdpmconsulting.com, or call us at 972-781-8861.