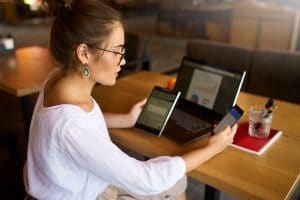 Changes in technology can affect what websites capable of, and how people look for information online. Keeping up with these updates can be important. For instance, if your site is not optimized for mobile devices, your SEO efforts can fall short of your hopes and expectations. With that said, a new technology or feature may not have the kind of effect that demands your notice. While people are finding benefits to voice search, those benefits may not impact how users look online for information on dental health, and dental services. We can help you keep up with changing trends that affect your SEO, while avoiding the temptation to chase developments that have yet to demonstrate their value.
How Much Attention Should I Give To New Trends In Online Searching?
Some changes to the world of search engines and online marketing are more important than others. For instance, Google's broad core algorithm update from August of last year influenced the way the search engine evaluated sites that covered health-based topics. That change had the ability to affect pages that discuss dental health, so your SEO efforts could have been impacted. If you are not able to keep up with the Google updates, technology changes, and user behaviors that shape SEO practices, you can start to lose online marketing momentum as your once-effective practices become less effective.
We Keep Up With The Trends And New Technology That Can Impact Your SEO
We pay attention to the different trends and changes that may affect your site's SEO. By keeping track of different developments – and recognizing how they might affect dental health practices – we can make sure your approach to online marketing is consistently effective. Also, we can help you if your website is outdated, and lacks the technical features you should have if you want to improve your visibility on search engines.
Other Forms Of Online Marketing Support That Help Your SEO
Your online marketing success can be determined by more than just technical matters that influence SEO. We can provide you with quality content that can boost your SEO, while also encouraging site visitors to see you. We are also ready to help you improve your approach to social media engagement, which can lead to positive results for your website.
MDPM Consulting Can Help You Build An Effective SEO Strategy
MDPM Consulting is prepared to help you grow your practice by improving your online marketing efforts. Not every development in the world of search engines and online marketing will have a direct impact on you. With that said, being aware of changing trends, and knowing when you should make corrections to your SEO strategy, can be key to long-term online growth. You can use the contact information below to reach us, and find out more!
Do you have questions about online trends and their effect on social media? Contact us today and let us help you! Email MDPM Consulting at info@mdpmconsulting.com, or call us at 972-781-8861.