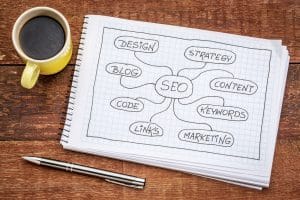 The content you produce on your site can have a large influence on your efforts to boost your SEO, and make connections with more people in your area looking for dental care. Sharing posts on your website that effectively use links and keywords – while also giving users meaningful information – can help your overall online marketing efforts. With that said, you may be struggling to promote your site because it lacks important technical features. In addition to helping you maintain a webpage that is already running, we can create a new website capable of maintaining better SEO!
Are Site Problems Interfering With Your Efforts To Reach More People?
Search engines consider more than just a site's content when determining which links to place at the top of a search query. Sites that are slower to load, work poorly on mobile devices, or are simply harder to crawl can have a harder time reaching those coveted spots at the top of relevant searches. A review of your site's design and setup can reveal problems that are hurting your efforts to reach people via online marketing.
An Older Website May Be Past Due For Replacement
An older site may be too far behind, and lacking in important new features, to achieve the kind of SEO improvements you want to see. A website's lifecycle is typically three or four years in length. In addition to lacking the technical features that can help you grow, your page could boast an outdated design that fails to impress people. We can offer quality website design improvements, and we are ready to help you start fresh with a modern website set up for modern marketing success!
We Can Provide The Right Technical Support, And The Right Content, To Boost Your SEO
Technical and organic SEO efforts can be crucial for your long-term online marketing plans. We can guide you through different challenges when it comes to promoting your practice with your website, and through your social media activity. We are ready to take on technical matters, and we can supply you with better content. The right approach can increase your growth, and even put a special focus on reaching people in your area.
MDPM Consulting Can Offer Technical Support To Improve your Site's SEO
Are you worried that your site is lacking in the kind of technical features that help with SEO efforts? MDPM Consulting can provide you with important help in improving, or replacing, your website. We offer skills and experience in the many facets of online marketing, and we can help you grow your patient list! For more information on how we can help you, please contact us by using the information provided below.
Is your website outdated, or lacking in the technical features needed to support better SEO? Please contact us today and let us help! Email MDPM Consulting at info@mdpmconsulting.com, or call us at 972-781-8861.