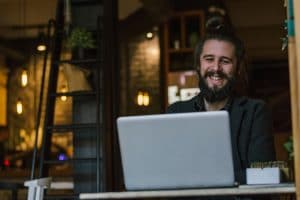 Are you counting on your website content to boost your SEO, or are you using content to engage with people who visit your site? If you want to sustain better website visibility, you should recognize how content that addresses visitors' questions and concerns can have real value for your SEO. As Google shares more page information on its SERPs, people who are looking for dental services, or who want answers to their smile concerns, can see a preview of your content. Having compelling information can encourage them to click your link to read further – that user engagement can show Google that your site offers more value. We can use consistently produced original content to help you improve your SEO, and gain more from your online marketing efforts.
Your Website Content Should Focus On Site Visitors, Not Just Algorithms
If you think of content as a way to trigger positive responses from Google's algorithms, you can fall into habits that have become less effective. Algorithm updates have made it easier to recognize content that is devised purely for better rankings, and not for users. Any worthwhile search engine understands the importance of making helpful information as accessible as possible. If you want your content to rank highly in relevant searches, you need to make sure you are satisfying users' questions and concerns when they enter queries about dental care in Google.
We Can Produce Original, Effective Content For Your Website
We can help you boost your SEO with original site content. We keep up with online marketing trends to make sure posts include the right technical features, and the right information, to be ranked highly. These posts rely on links and keywords, but ensure the work appearing on your site engages people, which can be important to sustaining long-term site growth.
Effective Strategies For Posting And Sharing Content
Having the right content matters, but you also need to think about when, how often, and where your content will be shared. We can make sure your site is updated consistently, creating more links for people to find. We can also help you by smartly using social media to interact with current and potential patients. In addition to sharing content through social media, we can provide helpful kits that can keep you page more active and engaging.
MDPM Consulting Can Improve Your SEO With Better Site Content
MDPM Consulting can offer important support for a range of online marketing needs. In addition to providing engaging, SEO-friendly content, we can help you with site updates, or even the creation of a new website to replace one that is older. For more information on how we can help you reach more people online, please reach us using the site information provided below.
Is your website content really helping your SEO? Please contact us today and let us help! Email MDPM Consulting at info@mdpmconsulting.com, or call us at 972-781-8861.