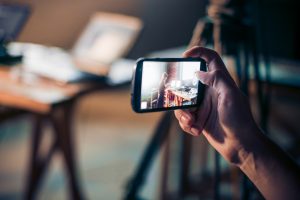 The content you create for your social media channels should be driven by your overall strategy. When you set out to create a social strategy for your business, one of the things you should consider is how you're going to drive engagement on your page. A recent study has shown that videos on Instagram receive more engagement than other types of content on the platform. That means your business should be leveraging this type of content to gain more engagement! Here's why video is so effective on social media, and how you can use the tool for yourself.
Videos Drive Audience Engagement Because They Engage the Senses
What makes video the most compelling visual medium? The fact that it engages more senses than other visuals. Video includes sights and sounds, and it has to be viewed continuously, meaning the audience has to pay closer attention to video than it would to a still image. In a very fundamental way, consuming video takes more active work. Creating something that captures your audience's attention is a great way to communicate information about branding, services, or upcoming events.
How Can You Decide What Kind of Video Content to Make?
Okay, so you understand the value that video can add to your social channels, but now you have to actually make the video. What kind of video content should you be producing? Think about video's strengths. What would video allow you to showcase that stills wouldn't? Videos allow your team members to introduce themselves and share their personalities. You can also use video to take your audience to a place they haven't been before. (Consider showing off the interior of your office!) Your videos don't need to involve a lot of editing and mixing to be effective. Even short videos that are only one shot can still communicate a powerful message.
Should I Only Be Producing Video Content for Instagram?
Statistically speaking, video posts do see a spike in engagement from a social audience. However, that doesn't mean that all of your Instagram content needs to be video. It's more important to choose a strategy and schedule, and stick to those things. Blending media — graphics, photos, and videos — is often the most effective way to create engaging content and diversify your feed. Remember, using the strengths of each medium is the best way to maximize the value that a post will have on your Instagram feed.
MDPM Consulting Can Help You Create Valuable Social Content
Producing social content can be a lot of work. If you're already pressed for time (like so many of us are), you may need help maintaining your feeds. MDPM Consulting provides social media strategy and management services. We'll help you produce content that engages your audience. Learn about all of MDPM Consulting's services by contacting the Dallas, TX office at 972-781-8861.