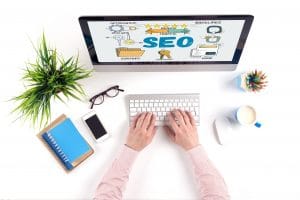 The right measures can boost your SEO, which makes you easier to find when people near you search online for dental care, or search for answers to their smile concerns. What you might not realize is that your ability to attract potential patients can be affected by what people find when they discover your link. Your SERP listing refers to your link, plus any additional information included with it, located on the results pages for search engines like Google. We can help you make sure you have more helpful information on SERPs, which can encourage people to seek out your services.
How "No-Click" Search Habits Can Affect Your Online Marketing Efforts
Websites that appear on Google can offer more than just a link when they appear on a search engine results page (SERP). When your competitors include information like their address and phone number with links, they can benefit from "no-click" searches, which see people use the information they gain from the SERP, rather than from any link they might click. When you have accurate information listed online, and you set up your page to share that information with Google, you can attract more calls from potential patients.
Make Sure Your Link Includes The Right Information!
If your practice has old information online, or inaccurate information, it can become harder to enjoy the benefits of local SEO. In other words, Google can be less likely to trust your address or other contact information, which hurts where you are ranked when people near you search for dental care. As we improve your site design, or build you a new website, we can make sure your information is accurate and up-to-date, while also taking care to remove incorrect information.
We Can Help You Understand, And Implement, Better Technical SEO
The right SEO efforts should amount to more than just the content you put on your website. While the right site content will be important, you also need to think about technical SEO. We can make sure your website is set up to communicate more effectively with Google. That can ensure your information on SERPs will be more complete, and more compelling. We can also help you maintain a more attractive, and user-friendly site. Remember that your website will be the first impression of you, and your practice, many people have. Making this impression a positive one can have lasting value!
MDPM Consulting Can Help You List More Information On SERPs
MDPM Consulting is prepared to help you improve your SEO efforts in 2019, and beyond! In addition to improving what you have on your website, we can make important technical changes that also affect what you share on SERPs. To learn more about this, and its value to your online marketing efforts, please contact us by using the information listed below.
Are you making the best use of your space on Google's results pages? Please contact us today and let us help! Email MDPM Consulting at info@mdpmconsulting.com, or call us at 972-781-8861.