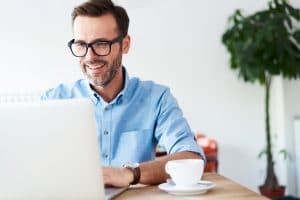 Attracting the most visitors possible can essentially guarantee that your website can bring your new patients, and help your dental practice grow, right? You obviously benefit from having an online presence that people are likely to find, and visit. With that said, in terms of practical value, the ideal visitors are only those who live near enough to your practice to arrange an appointment. We can provide the kind of site support that leads to organic, local SEO. Simply put, we can use the right content and site features to help you reach people near you.
What Makes Local SEO Important For Your Practice?
With the right approach to your SEO, it is possible to make sure Google recognizes your location, and your value for people near you. If you take a generalized approach to SEO, you may find that your increased visibility has little actual benefit for you. While you may see fewer site visits on the whole, local SEO efforts target the people who are actually around, and can schedule an appointment.
Making It Easier For Google To Recognize Your Location
Organic SEO efforts are those that try to boost your visibility while also making your site a better one for the people who engage with it. You can concentrate on organic SEO while also boosting your local SEO. With that said, there is more to it than just making sure your location is referenced in your website content, and in your contact details. For example, we can work with you to make sure your NAP is consistent online. NAP stands for Name, Address, Phone Number – if you have old, incorrect information still moving around, correcting or removing it can reduce confusion about your location. This is one of many technical matters that will influence a site's local SEO – we can go through these technical matters to make sure Google and other search engines are fully aware of your location!
Making The Most Of Your Online Presence If You Want To Reach People In Your Area
We are ready to help you improve your website in many meaningful ways. We can help with larger matters, like website creation and website design, that can feel daunting. We can also provide you with site support and social media activity that help you concentrate your attention on people in your area.
MDPM Consulting Can Help You Reach People In Your Area By Improving Your Local SEO
MDPM Consulting can help you make sure your site is being seen by people in your area by boosting your local SEO. We are excited to help your practice grow its online presence, and reach more potential patients. If you would like more information, we can be reached via the information provided below.
Have your local SEO efforts helped you make your site more visible to people in your area? Please contact us today and let us help! Email MDPM Consulting at info@mdpmconsulting.com, or call us at 972-781-8861.