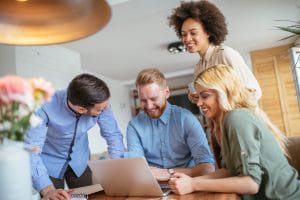 If you want to make sure your online marketing efforts have real value for your practice, you need to be aware that some approaches to website development and management offer more SEO advantages than others. The right website optimization strategies can involve technical details, which make your links more appealing on Google results pages, and easier for search engine algorithms to review. Because user interactions and interests contribute to your SEO, you also need to think seriously about the content you share online. We can help you build a better website optimization strategy by providing thorough SEO guidance.
Understanding The Value Of An SEO-Friendly Website For Your Practice
With a website for your dental practice, you can let people know about your experience, and the services you offer, while also making your location and contact information easy to find. Of course, if no one discovers your link, you can gain little from your online presence. SEO-friendly practices are those efforts that move your ranking on Google higher, so that you can be found more often.
How Technical SEO Features Help You Reach More People
Google and other search engines are evaluated on how well they provide people with helpful links. That means there is a strong incentive for them to provide access to pages that are easy to use, informative, and trustworthy. Technical matters can contribute to these qualities – if your website is slow, features useless links, or lacks a mobile-friendly layout, your SEO can be hurt. We can help you see the value to a better, more modern website. Technical improvements to your website can also help you do things like provide rich snippets on Google SERPs, which will allow you to provide useful information along with your link.
Providing A Better User Experience Can Help You Boost Your SEO
The website content you share should be able to engage site visitors, and answer the questions that sent them to Google. We can provide you with quality work that can answer questions, and keep users engaged. The idea that content needs to be constructed for Google's sake is an old one, and it can mislead many people. While we pay attention to matters of formatting, linking, and keyword use, we can also make sure your site recognizes users' intentions, as better site engagement can help with your SEO.
MDPM Consulting Can Help You Improve Your Online Marketing Efforts With Better Website Optimization Strategies
If you want to make better use of your online presence, talk to MDPM Consulting! We can provide you with website optimization strategies that help you reach more people, and more effectively promote your practice. If you would like to learn more, you can contact us via the information provided below.
Are you having trouble keeping up with the right website optimization strategies? Please contact us today and let us help! Email MDPM Consulting at info@mdpmconsulting.com, or call us at 972-781-8861.