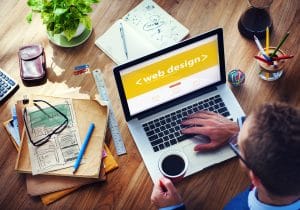 When it comes to the look of your website, cosmetic changes should not be thought of as minor. You could find that your new change makes another aspect of your website feel out place, or you could feel that an update has less impact than you hoped to see. You can quickly discover that a "small" change can have little effect if you are trying to revitalize a website that has extended past the typical lifespan of a page, which tends to extend to about three years. We can help you make cohesive, attractive website design changes, or talk to you about planning a new website to replace an old one.
Think About Website Design Changes Like You Think About Cosmetic Dental Work
A cosmetic change to your website can be compared to cosmetic dental work, as both show how superficial improvements can have significant value. With that said, not everyone is ready to have cosmetic work done. If a patient has oral health issues that you need to address, would you want to resolve those problems first, or would you ignore them and perform a teeth whitening treatment? If your website needs more than just a few superficial modifications, jumping straight to those modifications can fail to offer the kind of improvements you want to see.
What To Consider When You Think About Updating Your Website Design
A website that feels outdated can make people assume your page is not active, or properly managed, making the information seem less reliable. It can also be less effective at holding someone's attention, which can hurt your site engagement. Changing colors, updating your logo, and making other changes can be helpful, but they can fail to solve bigger problems, like the way your site looks on mobile pages, or the way information is organized.
Is This The Right Time To Develop A New Website?
If you are relying on a website that is more than three years old to promote your practice online, it may be time for you to replace it. We can talk to you about creating a new website that takes advantage of new trends, and advances in technology. As a result, you can benefit from having a page that boasts a great look, as well as important technical features that improve your SEO!
MDPM Consulting Can Help You Update Your Website Design
If you are ready to give your website a different look – or if you are ready to discuss a new website – MDPM Consulting can help! We are excited to help you make the best use of your online presence, and grow your practice. For more information, you can use the contact information below to reach us.
Are you considering making changes to the look of your website? Please contact us today and let us help! Email MDPM Consulting at info@mdpmconsulting.com, or call us at 972-781-8861.