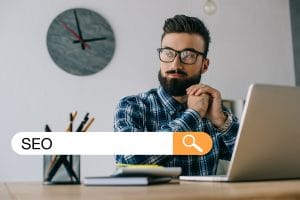 If you think of search engine optimization as a way to "cheat" your way into a better search engine rank, you can misunderstand the true value of SEO. The right approach to your site's design, features, and content can be good both for your online ranking, and visitors to your page. In fact, successive updates from Google can make those efforts to artificially boost a site's rank less effective, and less capable of delivering results. We can work with you on producing the kind of organic SEO rewarded by Google's algorithm, and appreciated by people who find your site.
SEO "Hacks" Can Be Ineffective, And Lower The Quality Of Your Site
If you look at SEO improvements as "tricks" or "hacks" that can make you more visible without offering improvements to your site's qualities, you can find yourself relying on ineffective practices. If you feel that your spot on Google can be determined by featuring excessive links, or loading your posts with popular keywords, you can ultimately just lower the quality of your page without seeing a bump in your visibility.
Improving Your Online Marketing Efforts With Changes That Can Make Your Site Better
When you rely on Google for information, your goal is to find websites that are trustworthy, informative, and easy to use. What you should know is that if you want your site to be more useful for promoting your dental practice, you should host the kind of online presence you would hope to find during a web search. Our focus on modern website design, user-friendly features, and original content can help you reach more people while ensuring they are glad to have found your site.
Let Us Help You Enjoy A Better Approach To Online Marketing
We can help you grow your practice through effective, SEO-friendly online behaviors. We can also work with you to make sure your page is capable of reaching people in your area, so those clicks can better translate into new appointments. You can also rely on our support if you want to make your social media presence more useful to you. With the right posts, and a better posting strategy, you can build tighter bonds with existing patients, and promote yourself to new people.
MDPM Consulting Can Help You Use SEO To Improve Your Site, And Your Online Visibility
The right approach to SEO can make your site easier to find, while also making it a better, higher-quality experience for the people who visit it. If you have questions about SEO, your website, or your social media activity, let us know! We can be reached using the contact information provided below.
Are you keeping up with the right SEO practices? Please contact us today and let us help you! Email MDPM Consulting at info@mdpmconsulting.com, or call us at 972-781-8861.