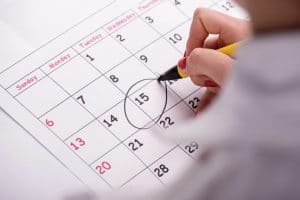 Smart SEO habits are about more than just what you share on your website – you should also think about when, and how often, you should post. Using a content calendar to plan your online activity can help you yield better results from your web presence. We use a content calendar to ensure your blog posts arrive consistently, while showing an appropriate diversity of topics (rather than continually bringing up one or two subjects). This can ensure that posts have a better chance of being found by potential patients, and that the scope of what your practice offers can be covered. You might find that a content calendar is beneficial for your social media activity, too. 
Using A Calendar To Make The Most Of Your Online Activity
A calendar of activity allows us to successfully maintain your online presence. You can look forward to consistent, dependable posts that feature original content. Planning also makes it easier to diversify the subjects being addressed, without returning to the same subject too many times. When everything is coordinated in advance, you can count on your updates to arrive at times when people are more likely to encounter them.
Coordinating Posts Can Help You Cover A Smart Range Of Topics
Unless you focus on a particular specialty, you can see patients who have a range of questions, and who need many different kinds of treatment. Your website content should reflect the variety of care that you provide. Planning posts makes it easier to know when content will run, and ensure the same subject is not addressed repeatedly.
If you are more specialized, you can use regular posts to address different concerns people might have about treatment, or address different matters that might require your services.
Can A Content Calendar Help You Improve Your Social Media Activity?
While our favorite social media sites are available at all times, activity at certain sites can spike at particular parts of the day. If you have a content calendar for the posts you share at your practice, you can make sure you run your posts at the right time. We can offer insights that help you make better choices regarding when, and what, to post on your social media pages. We also offer a social media kit that can supply you with engaging material you can share with your patients.
MDPM Consulting Can Help You Promote Your Practice Online
MDPM Consulting can help your practice grow through smart online marketing. In addition to helping you with technical matters and design choices, we can offer support by maintaining an active and engaging web presence. If you are ready to learn more, you can reach us at the contact information listed below.
What can a content calendar do for your practice? Please contact us today and let us help you! Email MDPM Consulting at info@mdpmconsulting.com, or call us at 972-781-8861.