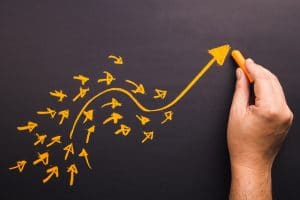 Social and digital marketing are fast-paced environments, because technology and the consumption patterns of users are ever-changing. That means that you always have to be ready to adapt. What social trends are on the rise in 2019? We've got a few pointers that will help your social media content stand out this year. These trends are related to how you create and share your content. Developing a strong social presence can build trust in your dental practice and engage your audience of patients.
Tell Social Media Stories that Matter to Your Audience
When you take the time to create some content for your social media channels, you may need a jumping off point. The best perspective you can take when creating content is to think about the social media stories that matter to your audience. These stories may differ slightly from the stories that matter most to your brand. You could create a post about the benefits of teeth whitening that encourages patients to ask about the procedure. Or you could create a post about a patient who's work or personal life has changed drastically thanks to cosmetic dentistry treatment. One one these post ideas is focused on people, and one is focused on products. Choose people in 2019.
Be Responsive to Your Followers When They Communicate with You
This is a piece of advice we're always echoing. Part of social media management is being social! That means responding to your audience when they communicate with you. If you're receiving comments on a post, reward those commenters with a response to show them you're listening. Do you check your Google My Business profile? If you're receiving reviews (either positive or negative), respond to those reviews to show the people leaving them that you care about their feedback.
Involve Your Team in Your Practice's Social Media Content Creation
Everyone could always use more tactics for creating social media content. One of the best things you can do when trying to create engaging content is to involve your team! People love seeing behind-the-scenes material that showcases personality. Let your followers get to know your staff by having them create some of the content for your channel. If your dental practice appears as a clean, empty office online, it will feel clinical and aseptic to your audience. Don't be afraid to share your personality with your online presence.
MDPM Consulting Can Help You Adopt These Social Media Trends
If you need help keeping up with and implementing social media trends and strategy, MDPM Consulting is here! Our team of content creators and web developers can create a personalized strategy that helps your dental practice stand out and engage patients online. To learn more about our full range of services, contact MDPM Consulting in Dallas, TX at 972-781-8861.