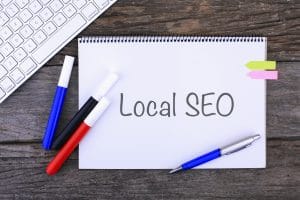 Attracting more people to your website can be helpful. With that said, if you want your online presence to benefit your practice, you should be focused on making sure the people who find you are also close enough to you to make an appointment. Local SEO refers to efforts that help a website connect to users in a particular area, rather than an effort to generate the most visitors possible. We can help you improve your local SEO, which can translate to new patients, and better business. 
SEO Versus Local SEO
Search Engine Optimization, or SEO, refers to the overall efforts a site can make to rank higher in online searches. As search algorithms change and improve, past habits to improve search rankings can become less effective. We offer an SEO strategy built around offering a better user experience – a modern, easy to use site that engages people can fit what search engines consistently hope to provide.
Local SEO efforts concentrate on improving your site's rank when people near you perform online searches. To improve your local SEO, you need to make sure your NAP (name, address, and phone number) are consistent online, and include the right information on your site to make sure Google and other search engines know where you are. Inconsistencies and missing information can hurt your rank, and make it harder for you to reach the people who are close enough to schedule an appointment.
Producing Content That Can Target People In Your Area
Your online content can make it clear what area, or areas, you serve. It is important to note that attempting to mention your location too often, or too intrusively, can be less beneficial. Smartly applied location references made in original posts can be more effective at putting your site in front of the right people.
What Else Can I Do To Build Connections To People Near Me?
We can work with you to make sure your site is modern, attractive, and user-friendly. We can also help connect you to your community, so that people near you are more likely to find you. Your efforts should extend beyond your website. We can help you set up and maintain a beneficial social media presence, which can offer more local SEO while also giving you a new way to stay engaged with existing patients.
MDPM Consulting Can Help You Reach More People With Local SEO Efforts
If you want your online efforts to bring in more patients, you need to maintain effective local SEO. MDPM Consulting is ready to help you appreciate the value of local SEO, and we can help you maintain a web presence that effectively promotes your practice, and your services. For more information, contact us using the information provided below.
Have you given local SEO enough attention? Please contact us today and let us help you! Email MDPM Consulting at info@mdpmconsulting.com, or call us at 972-781-8861.