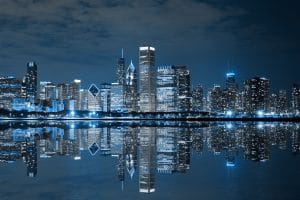 It's Friday! Normally that would mean it's time for a client feature on the blog, but today, we want to talk about an event that affects many of our clients from across the country. That's because it's almost time for Midwinter Meeting! This conference presents a valuable opportunity to participate in some continuing dental education and to browse a selection of new tools and toys for your practice. Before Midwinter Meeting arrives on February 21st, we want to make sure you and your practice are ready to attend. That's why we've put together a handy information download.
Here Are the Key Details for Midwinter Meeting
First and foremost, you'll need to know where the event is if you're going to attend (it's a pretty crucial piece of information for any face-to-face interaction). Midwinter Meeting takes place at the McCormick Place West Building on Indiana Ave in Chicago. The event runs February 21st to the 23rd, and this year's theme is "A Midwinter Mardi Gras." (Now you're prepared to attend in costume.)
It's important to note that any Chicago Dentistry Society (CDS) members can register for the conference for free. If you're an American Dental Association member, you can join the CDS as an associate member and your registration will only be $125. Another registration note: for every three attendees you register, you'll get a fourth registration for free. This makes it easy to bring the whole office along!
Set Your Agenda for Midwinter Meeting Before You Arrive
Midwinter Meeting is a jam-packed three days with tons of opportunities to try new products, attend sessions, and network. Looking at the schedule of events, there's no way you can do it all. To make sure you get the most out of your experience, you should set your agenda before you arrive. You can check out the preliminary program online to arrange your schedule before you get to the conference. Obviously your plans may change or the event schedule itself may change, but it's good to start with an agenda and stay flexible.
Don't Get Swept Up by All the Shiny New Toys
Before you hit the exhibition hall at Midwinter Meeting, it's important to remind yourself not to get swept up by all the shiny new toys on display! You're going to see some awesome products, but that doesn't necessarily mean they're right for you and your practice. Your dental practice has a unique clientele and unique goals. Sometimes the shiny new toy simply isn't a good value for your practice. You'll want to take those things into consideration before you make any sort of financial commitment to a new instrument.
Connect with MDPM Consulting at Midwinter Meeting
We'll be attending Midwinter Meeting, and we'd love to see you while we're there! If you're going to be in attendance, let us know. If you're presenting at any other upcoming conferences, tell us about that too! We'd love to promote your appearance on your social media channels and website. To connect with our team and learn more about our full range of service, contact MDPM Consulting in Dallas, TX at 972-781-8861.