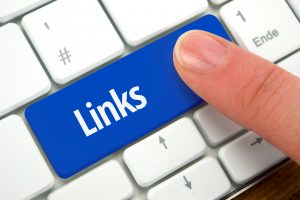 Certain website features can be surprisingly useful when it comes to making your page easier to find. When you think about your site's SEO, and what you can do to improve it, you might not realize how beneficial it can be to include links in your content. Your links are good for helping visitors navigate your page, and answer pertinent questions about your services (while staying on your website). They also demonstrate support for your content, and its value to potential visitors. We can help you understand the importance of links in promoting your practice, and in boosting your SEO. Link building is one of many tactics we can use to make your content more useful to you.
Why Should I Include Links In My Website Content?
When you feature links effectively, you can make the pages on your site more attractive, and easier for the right people to find. When your site is analyzed, links to particular pages show favor to the content listed, making them seem more worthwhile to someone who might be searching a relevant matter. Your links also give someone more reasons to stay on your site when they want more information, rather than starting a new search and potentially finding a competitor's page.
The Importance Of Using Links Properly
If links are implemented poorly, or if they are used in excess, their value to you can be reduced. If links seem illegitimate to search engine algorithms, your SEO can be affected. When we provide links, we take care to link build properly. This means using relevant anchor text (the words in your content where the link will be inserted), and avoiding excessive or unrelated uses.
Your Content Can Impact Your SEO
Producing blog content for your site means creating new links, and new pages, that can show up in a search. You can improve your reach with custom-made, relevant blogs that effectively promote what you offer your patients. It is important to make content meaningful, and original, as plagiarism and blogs geared more towards algorithms than people can harm your online marketing efforts.
MDPM Consulting Can Help You Improve Your Site's SEO With Better Online Habits
If you want to improve your site's reach, you need to think seriously about the content you provide online. MDPM Consulting can help you use a better link building strategy to reach more people. This is one of many ways we can help you reach more people in your area, and see more value in your attempt to market your dental practice online! If you want more information, you can reach us by using the contact information provided below.
Are you ready to find out how link building can help you reach more people? Please contact us today and let us help you! Email MDPM Consulting at info@mdpmconsulting.com, or call us at 972-781-8861.