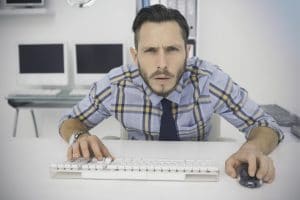 What are your responsibilities concerning ADA compliance and your website? Failing to keep up with compliance standards can make it more difficult for some of your potential patients to use your site, and decide if they should schedule an appointment at your practice. While there is no clear penalty for failing to meet ADA compliance, many people worry that they will be vulnerable to legal challenges for falling short in this matter. We can make sure your site satisfies accessibility standards with the use of a special plugin. This can help you reach appropriate compliance, while also making your site easier for more people to use.
What Can Happen If My Website Is Not Accessible For Everyone?
While there is not a fixed legal penalty for failing to comply with accessibility standards, major sites have been met with lawsuits because of their shortcomings. While you may have avoided problems in the past, you may consider a lack of compliance a vulnerability worth addressing. Better compliance also makes it easier for everyone to visit your site, meaning you can expand your site's reach by tackling accessibility issues.
We Can Set Up Your Website To Meet Compliance Standards
We work with our clients to provide the updates they need to meet ADA accessibility standards. By using a special plugin, we can make sure everything your site needs to be compliant will be met, protecting you from any challenges. In addition to meeting applicable standards, the plugin makes it easy for someone with a disability to navigate your page, and learn more about the services offered at your practice.
What Else Can You Gain By Reevaluating Your Website's Design?
Your website design is about more than just the way your page looks, though appearances are certainly important. We can update your web presence to showcase a more modern look, which can make your site more appealing to visitors. We also offer support to make it easier to navigate, which can help with user engagement. You might not realize it, but the right design features can help you avoid problems that hurt your SEO. For instance, a mobile-friendly design can be important to raising your rank in relevant Google searches.
MDPM Consulting Can Make Sure Your Website Is Compliant With Accessibility Standards
Is your website compliant with ADA standards? Are you prepared to make the necessary updates? MDPM Consulting can help you address issues like this, while also improving the look of your website. We can help you gain more from your online presence, and generate more value from posts on your page, and on social media. For more information, you can contact us by using the information provided below.
Is your website currently ADA compliant? If not, or if you are unsure, please contact us today and let us help you! Email MDPM Consulting at info@mdpmconsulting.com, or call us at 972-781-8861.