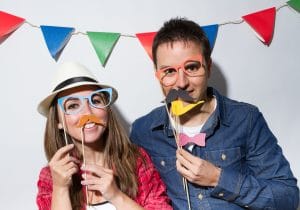 MDPM is now offering clients a special treat for their office that can be used to create great social media posts! Our new Photo Booth will provide you with links to great props, and instructions on producing a special backdrop you can set up at your practice. With these materials, you can create something fun for your patients, and your staff to use. While this is a great way to add a little whimsy to a visit to the dentist, your photo booth setup can also be used to create fun and engaging social media posts, which can help you boost your online marketing efforts.
What Your Photo Booth Includes
If you are on our monthly SEO package, or if you subscribe to our custom social media package, you can count on receiving your own photo booth kit. You will have links to order props, which focus on items that suit the season, and instructions on how you can have a quality backdrop printed.
What Can I Do With My Photo Booth?
Once your photo booth is set up, you can explore creative and fun uses for it at your practice. You can introduce new team members, and keep people updated on your current staff, with fun, silly photos that show off your fun side. You can also make the photo booth area a fun treat for young patients, who can celebrate being cavity-free with a commemorative photo. While these kits are packaged as a way to create positive social media content, you are free to find additional uses that serve your practice well.
The Right Online Activity Can Give Your Digital Marketing Efforts An Important Boost
When you set up a social media presence for your dental office, you create a means of promoting your services online. You also create a space where you can keep up with your current patients, and help them connect to you on a personal level. We offer support through our social media kit because we want your practice to truly benefit from what you share online!
Talk To MDPM Consulting To Learn How You Can Benefit From Our New Photo Booth
At MDPM Consulting, we can help you take the necessary steps to cultivate a truly effective digital marketing effort. That can involve building, designing, and maintaining your website, and helping you manage a successful social media presence. If you have questions about online marketing, or if you think you could benefit from changing your approach to it, you can contact us by using the information listed below.
Are you doing enough to make sure your social media activity truly supports your practice? Please contact us today and let us help! Email MDPM Consulting at info@mdpmconsulting.com, or call us at 972-781-8861.