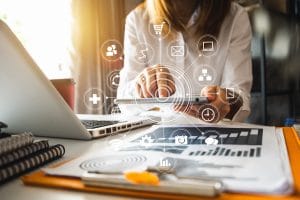 Whether your business is product- or service-oriented, you need to take a hands-on approach to managing your online reviews. That's because online reviews are the easiest way to build your reputation, or destroy it if you're not paying attention. You don't have to sit idly by as online reviews happen — you have agency when it comes to the online presence of your business. As such, you need to approach online reviews for your business with a strategic mindset.
Set Up a Google My Business Page to Claim Your Business
Your "Google My Business" page is your ownership profile for your business. With this profile, you can manage the presentation of your business online and respond to reviews. First you'll have to create your account. Google will mail you a code to verify that you actually own the physical location for your business. Once you've completed the verification, you can fill out your profile with business information and high quality photos of your products and services. Google Maps uses the star ratings from Google My Business, so maintaining a high rating on this platform is a must.
Devise a Strategy for How You Will Garner Positive Reviews for Your Business
Once you have ownership of your page, you need a strategy for how you will garner positive reviews. One of the best things you can do to increase the number of reviews you receive is to make it easy for your clients to leave a review. Include the link to Google reviews in email blasts and on your website. If a client only needs to make one click to leave a review, they're much more likely to do so. For dental practices, asking long-time patients to leave a review while they're visiting the office is a surprisingly useful technique. If someone loves your business, they'll want to share it with others!
You Need a Strategy for Addressing Negative Reviews as Well
Of course, not everything is sunshine and rainbows all the time. Even if you do your best to manage your customer experience (which you should), you will receive negative reviews at times. The best thing to do is to respond to these reviews. Show your clients (and those watching online) that you're listening to their concerns and doing what you can to address any issues.
Let MDPM Consulting Help with Your Online Review Strategy
If this process sounds overwhelming, that's okay! Managing a physical practice is a ton of work, and you could use a partner to manage your online presence. MDPM Consulting is here with website building, SEO strategy, and social media services to help you shine online. If you need help setting up a Google My Business profile, talk to our team and let us help. To learn about everything MDPM Consulting can do for your dental practice, contact our Dallas, TX office at 972-781-8861.