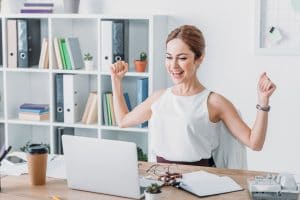 It may be tempting to believe that your website, and your social media page, are sufficient for your online marketing needs. Unfortunately, a lack of smart promotion can leave your efforts practically invisible, and ultimately ineffective. If you have struggled to reach people online, we can help you implement a smart strategy for digital marketing. We can make effective use of your content KPIs (key performance indicators) to develop better, smarter marketing strategies for your dental practice. When you understand what these indicators are conveying, it can be easier to create a better online experience, and produce more useful posts.
Content KPIs And Your SEO
SEO strategies aim to make you easier to find during relevant online searches. SEO improvement can involve technical changes, and changes to your content. Your improvement may come in the form of including more links, or producing more original content that benefits potential visitors. It can also involve technical updates that allow your site to be more easily scanned and analyzed by search engine algorithms.
Using KPIs To Create A Social Media Strategy
KPIs can influence the way you approach your social media strategy. Are your social media posts being interacted with – and shared – by your current patients? How often do you have people come to you after finding you thanks to your social media presence? Monitoring the effectiveness of your activity on sites like Facebook and Instagram can lead to more online marketing success. This can mean changing the kind of posts you make, including more details about your team, or even changing when, and how often, you provide updates on your accounts.
Your KPIs Also Help Address Issues With User Engagement And Business Conversion
Your goal with online marketing should be to attract users, and to convert online visitors to patient appointments. If you understand what motivates a person to stay on your site, and ultimately schedule a visit, you can see more consistent value from your online activity. We can use user engagement data to determine what people are seeing, what original content elicits a positive reaction, and – ultimately – determine how to make your website more effective.
MDPM Consulting Can Help You Use KPIs To Craft Your Digital Marketing Strategy
When you pay attention to key performance indicators, and understand how to interpret the right data, you can improve your overall online marketing efforts. MDPM Consulting can help you look at the right information, and create an online dental marketing strategy that can bring new patients to your office! To learn more about how we use KPIs to help create the right approach, you can contact us by using the information provided below.
Are you ready to learn how content KPIs can help you grow your practice? Please contact us today and let us help! Email MDPM Consulting at info@mdpmconsulting.com, or call us at 972-781-8861.